I love to try different art mediums when working in my Bible. This Faber Castell Gelatos Tutorial for Bible Journaling is one of my favorite ways to illustrate with so many possibilities.
Sometimes there is nothing better than sitting down on a weekend to just freely express myself through Bible journaling. I get the opportunity to just study and meditate on God's word while having a blast using different arts and craft supplies.
For this entry I used the Faber Castell gelatos in the metallics and then topped it off with a little pearl colored color shine spray from Heidi Swapp for an extra touch of shimmer.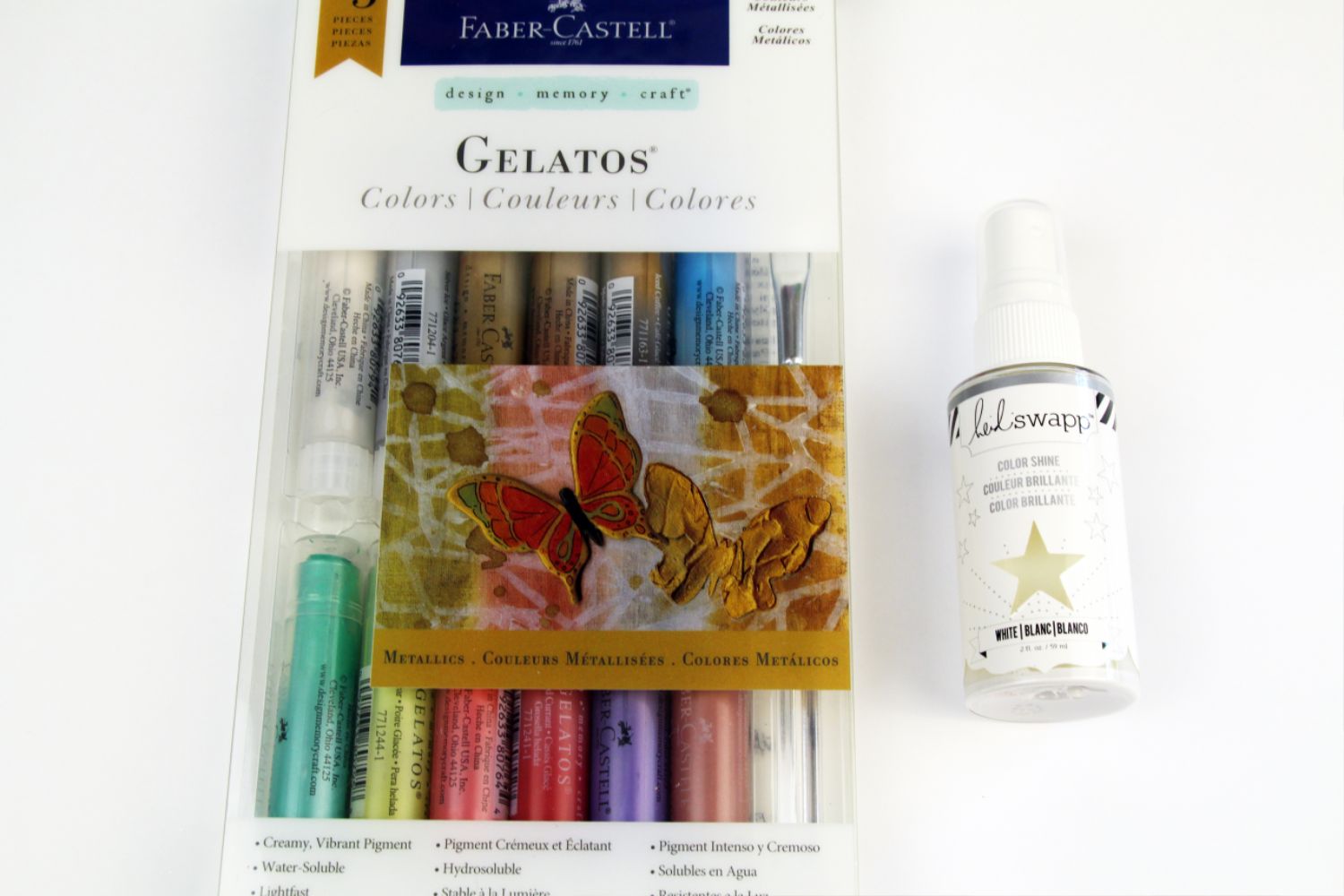 I have the easiest technique to show you today for how you can decorate your pages with something new and fun. Be sure to check out my other post Where to Get Started with Bible Journaling for Beginners. This post will explain what Bible I use specifically in case you are new to Bible journaling and curious to learn more.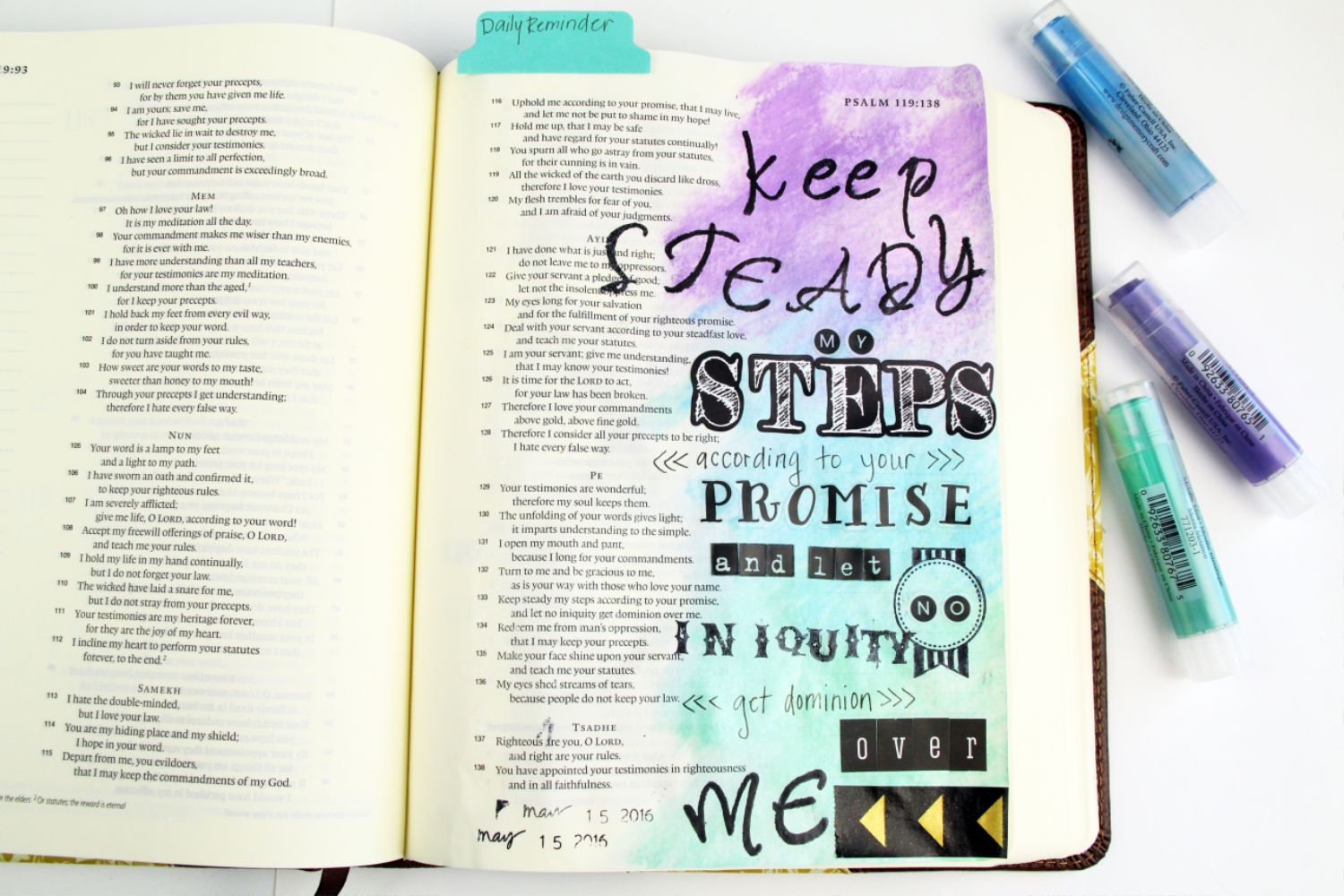 Gelatos Technique
Before I get started on any page in my Bible, I always prep the area with supplies I have in mind to use and then cover the pages to protect space I'm not working on at this point. I place a sheet of kraft paper under the page I'm working on and then one directly on the opposite side. I also tape my page down to the kraft paper with washi tape to keep it in place while working.
These gelatos are so rich and creamy when you start spreading them on a page. Plus I love how adorable they look like little lipsticks. Start rubbing the gelato on your page much like a crayon but don't use too much pressure. *I would also suggest practicing on scrap paper or even extra pages in the back of your Bible first.
Wet a washcloth and ring out most of the water until it is just damp. You will then start rubbing the damp cloth gently over the page and you will see the colors start to blend together and almost have a watercolor effect. The more you wipe the page, the more the color will fade and blend together. And that's all there is to it!
I love how the colors blended together so well on my page. The pop of purple, blue, and aqua just blends together so well.
Below is a color palette of the metallics pack of gelatos with the names written below each color. You can see the color by just rubbing the gelato on the page and then again with the damp cloth.
This color pallete alone is so pretty to me I just had to include another picture!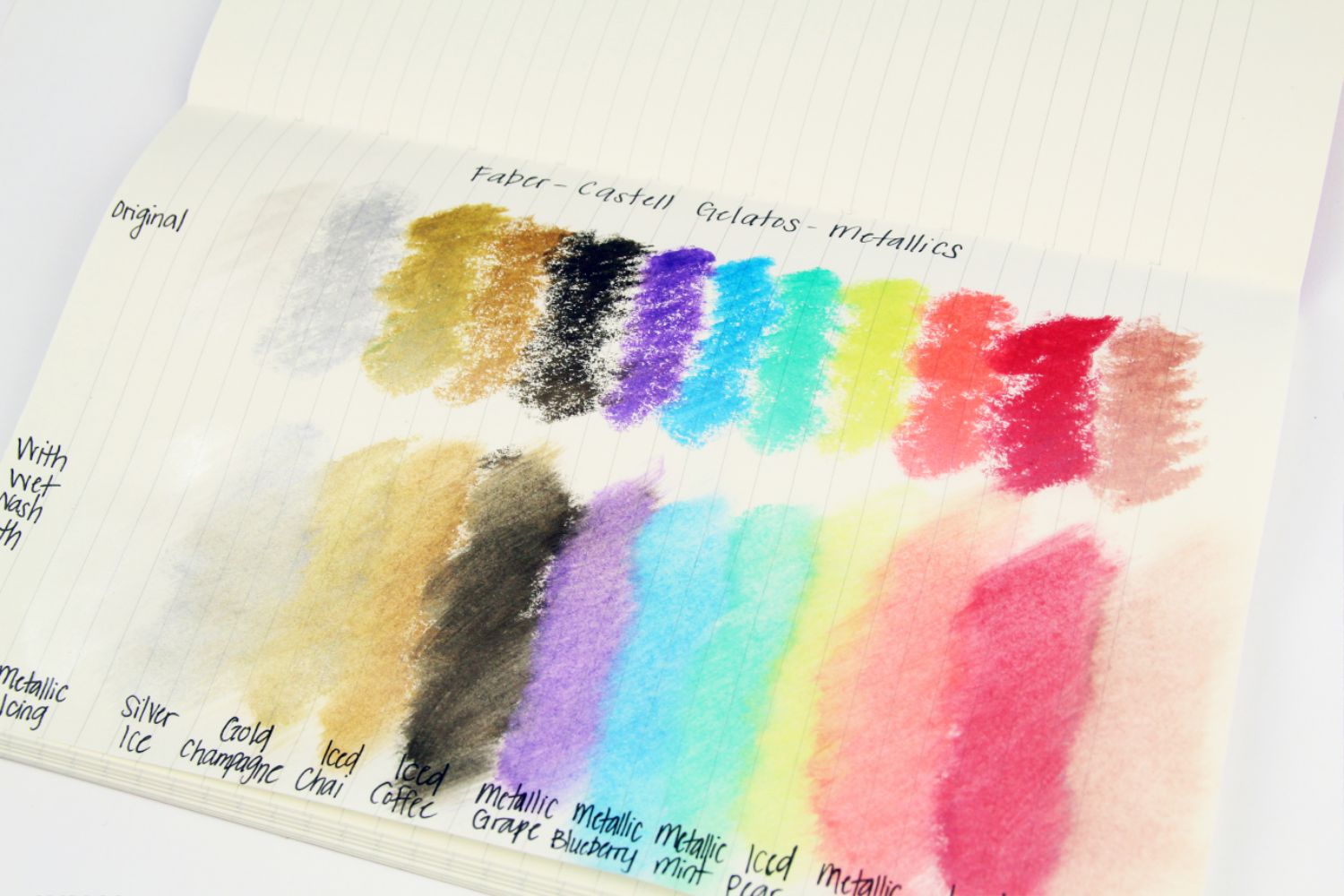 I have several ideas and techniques of other ways to use gelatos that I can't wait to share. For now though, this technique is great for beginners or those that don't really feel artistic but want to get the same look.
For part of the words, I used acrylic stamps and an acrylic block to stamp letters. I love this technique too. For those who may not use stamps much, I will share a tutorial for those in the future as well if you would like.
I continued my page by adding different style alpha stickers and also some hand written parts using my Faber Castell Pitt Artist pens. These are amazing as well as they don't bleed through the page. The pack also comes with 4 different sizes.
I illustrated Psalm 119:133: "Keep steady my steps according to your promise and let no iniquity have dominion over me." ESV This is a favorite verse of mine that I read and recite to myself multiple times daily. It has helped me through some tough days and seasons. I can't imagine going a day without praying it and having it on my mind.
To use the Heidi Swapp color shine spray, cover the area of your page that you don't want to color on. I gently shake the bottle before spraying and then just spritz a few times to cover the page. Be careful when using this because you can easily spray too much before you realize it. Again practice on scrap paper. Also move anything sitting around your Bible that you don't want sprayed on as it tends to spread out sometimes when you spray. I used the pearl color as pictured above, but you probably can't see it in the photo below.
Below shows using other Heidi Swapp color shine sprays in yellow, pink, and blue for a better idea of how they look.
I finished up my page with just a few more touches including a strip of washi tape and my date stamp also from Heidi Swapp.
I always add a tab at the top of each entry with a little phrase that gives a preview of that entry for quick access. The tab punch is amazing and my best friend.
For me this page is a daily reminder that I meditate on throughout the day. Other pages of mine may say Fear, Peace, or whatever that scripture is referencing. It really helps when I am needing a verse with a specific topic. I then just attached it using scrapbook adhesive squares.
These colors and gelatos just blended together so smoothly and perfectly. I am absolutely in love with how this page turned out. I couldn't be any happier. Let me know in the comments below if you try this Faber Castell gelatos tutorial for Bible Journaling and decide to try them. I would love to see your Bible pages too.
And if you are looking for other ways I have used the gelatos, then check out the page below from Exodus when the Red Sea is divided. I just love how the aqua and blue blended together for the waves.
P.S. Please share this post with others if you enjoyed it and found it helpful. We love when you pass on goodness to others.
Some of the links in the post above are "affiliate links." This means if you click on the link and purchase the item, I will receive an affiliate commission. Regardless, I only recommend products or services I use personally and believe will add value to my readers. 
ENROLL NOW IN MY 5 DAY BIBLE JOURNALING ECOURSE FOR FREE!
Get exclusive tips and tricks with my 5 Day eCourse available exclusively to subscribers!