St. Patrick's Day is almost here. I can hardly believe how fast the year is already going by, but I must admit that I'm definitely ready for Spring. I am loving the warm weather we have had lately and being able to get out of the house and enjoy it more.
These marshmallow pops are the perfect fun treat for your kids to celebrate too. The great part is that they can even help you with decorating them. I am sure they will love helping you eat them too. Who wouldn't?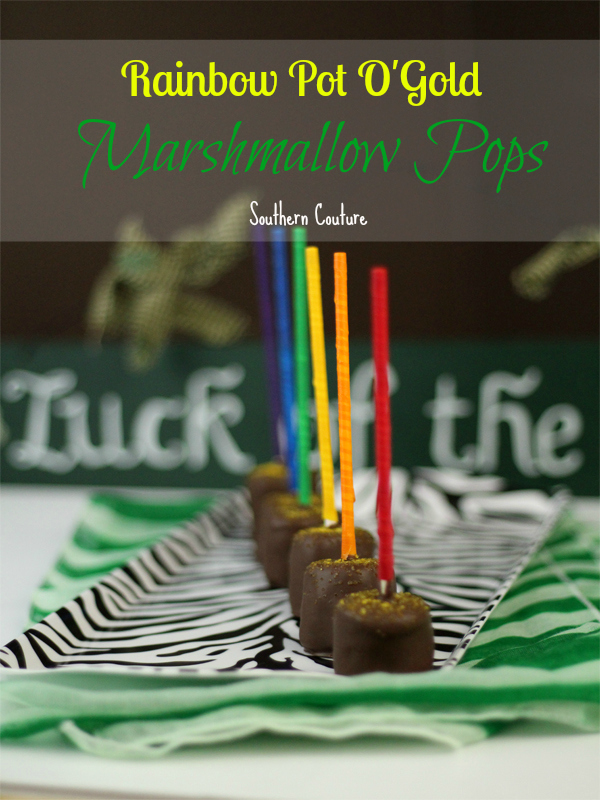 The simplicity of these rainbow pot o' gold marshmallow pops is what makes them truly "pop." Preparing and celebrating for a holiday doesn't have to be anything complex and expensive.
Ingredients and Supplies:
Chocolate chips
Marshmallows
Lollipop sticks
Yellow sugar sprinkles
Washi tape- each in coordinating colors of rainbow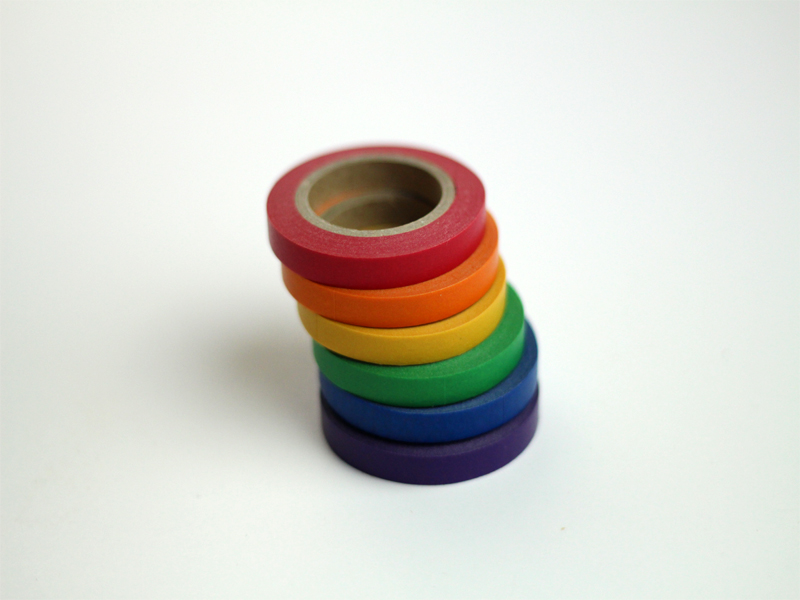 Markers- in each color to match the washi tape
First melt you chocolate according to package directions. I melted mine using a double boiler and stirring constantly. You could also melt in the microwave.
Dip your lollipop stick in the marshmallow about ½" before inserting into the marshmallow. This extra step will help the marshmallow adhere to the lollipop stick and not slide off easily.
Insert into the marshmallow and then dip in the chocolate until completely covered up to the stick.
Before the chocolate hardens, sprinkle the yellow sugar sprinkles on the top of the marshmallow "pot" for the sprinkling of gold.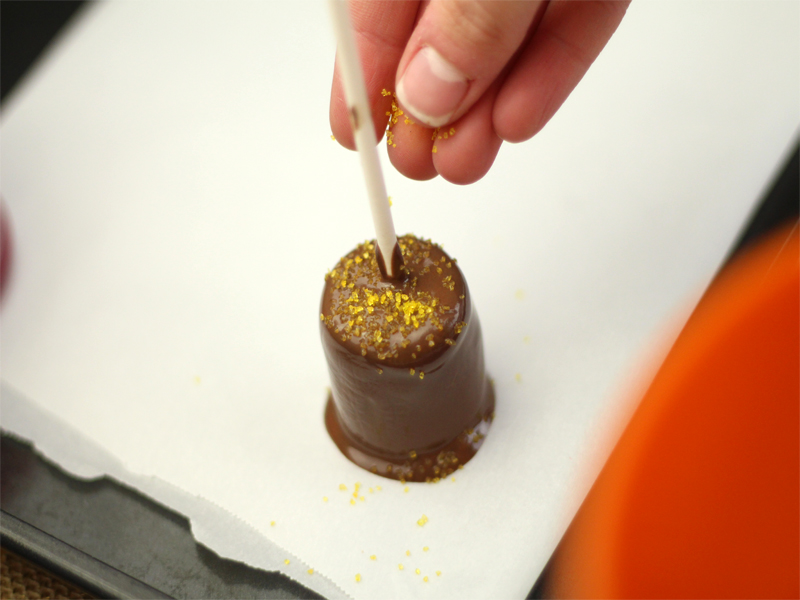 Once your chocolate has all hardened, you are ready to wrap the sticks in washi tape with each color of the rainbow.
*I have loved washi tape for a little while now, but recently found the fun in wrapping my lollipop sticks with it for my cake pops. I would search for different designs of paper straws but sometimes having a hard time finding that perfect design I was looking for. I don't have to worry about that now because washi tape comes in so many different designs and colors. It also saves me money from buying multiple paper straw colors and not using all of them.
Lastly color the tip of each lollipop stick with the coordinating color of washi tape.
Stand your pops in the order of the rainbow and you are now ready to serve.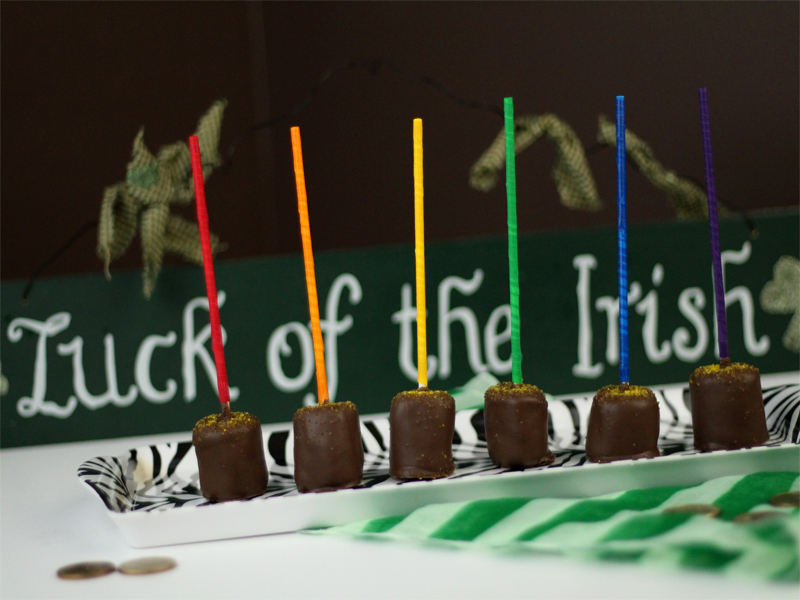 This is a great idea to get your kids involved and spend some quality time together in the kitchen. Plus it's so much fun to see the colors once you are done. I love anything colorful and the glitz the sugar sprinkles give to the pot o' gold.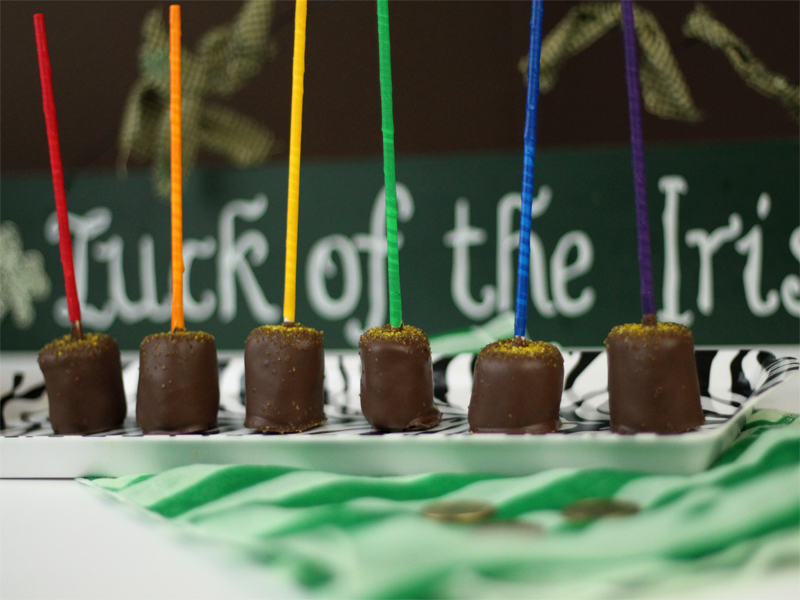 Enjoy the little things even in celebrating a fun holiday with a little something sweet.
Also if you have not already, please join me on Facebook, Pinterest, Instagram, and Twitter. I would love to hear from you with any comments, suggestions, or ideas you may have.
This post was originally published on Club ChicaCircle on February 18, 2015.