This shop has been compensated by Collective Bias, Inc. and its advertisers. All opinions are mine alone. I pinky promise. #DipYourWay #CollectiveBias
Back to school time will be here before we even know it so why not close out the summer with a bang for the kiddos to help them get excited. Throw an "Under the Big Top" Carnival party for the neighborhood kids. It's the perfect way to celebrate with one more special event full of delicious snacks and fun games.
You may be thinking you don't have enough time to throw another party with all the cooking and decorating, but have all that covered for you. It can be very simple, inexpensive, and delicious all at the same time.
Let's talk food first. Children love snacks that are easy and quick to eat so that they can get back to playing right away. The other part about kids and food is that sometimes you have to get creative with sneaking those vegetables into their food too. This spread is exactly all those things into one and is also great to use for a dip. That brings me to a Cheddar BLT Spread.
Ingredients:
Kraft French Onion Dip 12 oz. container- You could also try using Kraft Green Onion Dip or Kraft Bacon and Cheddar Dip.
½ cup shredded sharp cheddar cheese
1 medium tomato diced
4 slices crispy bacon
2 green onions
Spinach- for garnish
*Be sure to leave enough tomato, bacon, and green onion for garnish as well.
Combine all ingredients in a bowl and stir together to combine.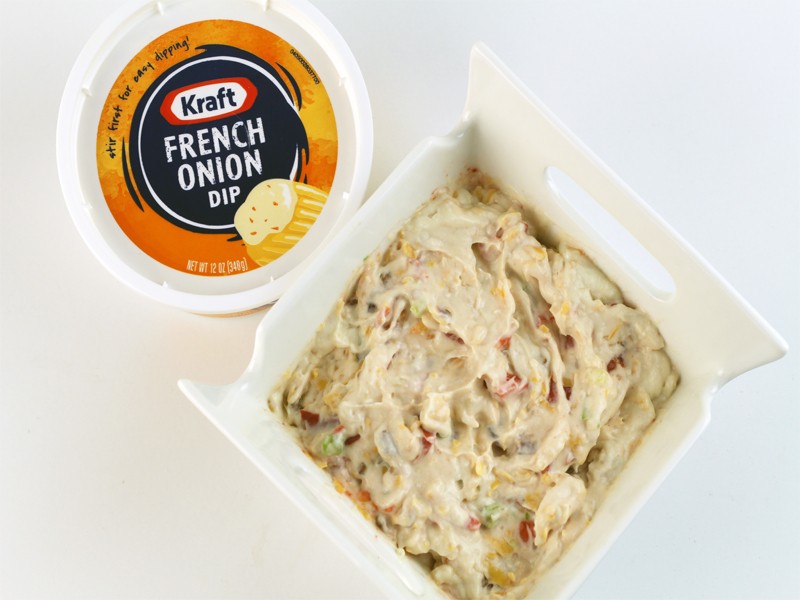 Add tomato, bacon, green onion, and spinach to the top for garnish.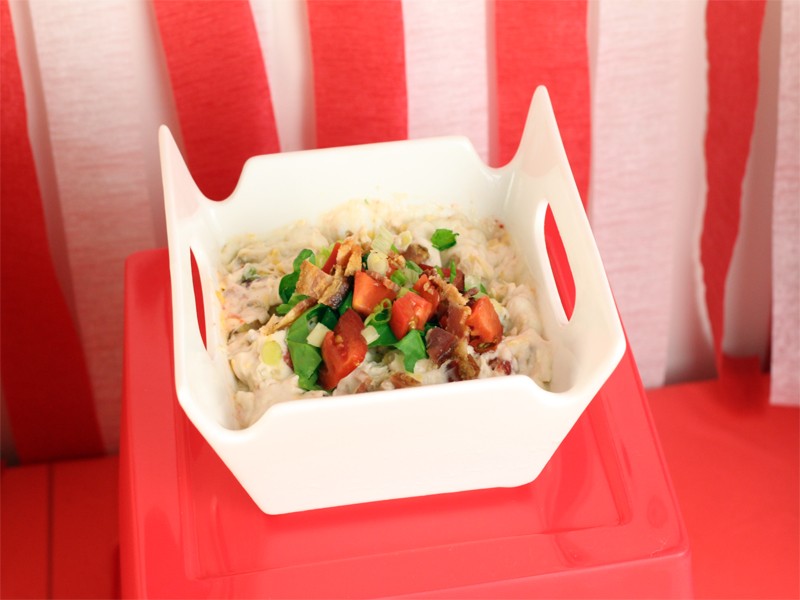 Spread the dip on different types of crackers and serve. Kids will love the finger foods and deliciousness of the creamy consistency while also enjoying those veggies.
Be sure to head to Wal-Mart where you can also find the newly packaged Kraft dips in French Onion, Green Onion, and Bacon and Cheddar. These Kraft dips are perfect for any party or occasion.
Now that the kiddos have enjoyed their vegetables in a scrumptious spread or dip, it's time for them to enjoy something else salty and sweet. I can't think of 2 better things than popcorn and cotton candy to enjoy at a carnival. Let's get started with the decorations and show how the food is incorporated.
Start by first hanging red and white crepe paper streamers above where the food table will be. I found these "admit one" ticket stubs at the dollar store as well that worked perfectly to use as a banner. Hang a section of the tickets above the streamers. Blow up several bright colored balloons to hang on both sides of the streamers.
For the table, cover it with a red plastic tablecloth. For the front of the table, I cut sections out of red and white tissue paper for stripes to hang using tape. I added another roll of the tickets to the front of the table with a balloon on each end as well.
Place your Cheddar BLT spread made from Kraft French Onion Dip in the middle of the table with a platter of different crackers. I placed the dip in a bowl on the top of a red plastic storage bin from the dollar store that I turned upside down.
On one side I placed the popcorn. This vintage style popcorn machine reminds me of stove top or campfire popcorn. Plus it just looks like something you would see at the carnival. I placed several popcorn containers around it so everyone could have their own or share if they wanted to.
To add a little more decoration, I made my own giant popcorn tub as well. All you need is a plastic storage bin. I found this red one at the dollar store. I bunched up sheets of white and yellow tissue paper and placed them inside for the popcorn. On the front of the tub, I used a yellow piece of scrapbook paper and placed black stickers on the front to spell "popcorn." How cute and easy was that?!
We have had salty, but now we need something sweet. Cotton candy has always been one of my most favorite desserts. It seemed like I always had to have some when we went to a carnival, fair, circus, ball game, etc. when I was a child. (Let's be honest. It's pretty much still like that.)
Using my "vintage" looking cotton candy maker, I made my own cotton candy at home. I left some of the cotton candy on the wands.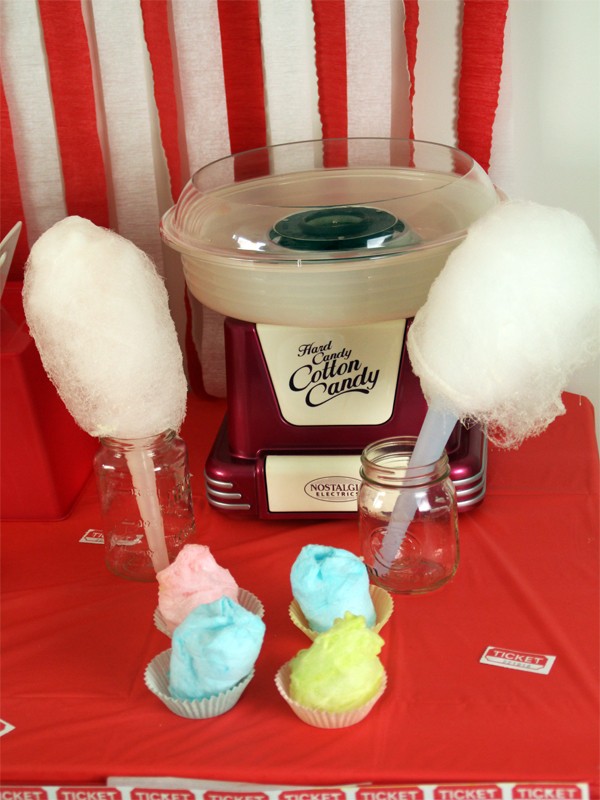 I also placed several smaller servings in cupcake liners for younger children as well. I love how the cupcake liners can also be serving bowls.
To top off the table, tear off several of the ticket stubs and place them randomly throughout the table like giant confetti. The tickets could also be used for games at the party as well.
Which of the 3 newly packaged Kraft dips is your favorite? What creative ways do you use them when entertaining? I would love to know in the comments below. If you are looking for any suggestions or ideas, then be sure to click HERE.
Enjoy the little things in life like the fun of a simple and fun party!
Also if you have not already, please join me on Facebook, Pinterest, Instagram, and Twitter. I would love to hear from you with any comments, suggestions, or ideas you may have.
P.S. Please share this post with others if you enjoyed it and found it helpful. We love when you pass on goodness to others.