Use these baby shower decoration ideas to host the perfect celebration for the special parents. Plus you can change them easily to make them appropriate for girls too.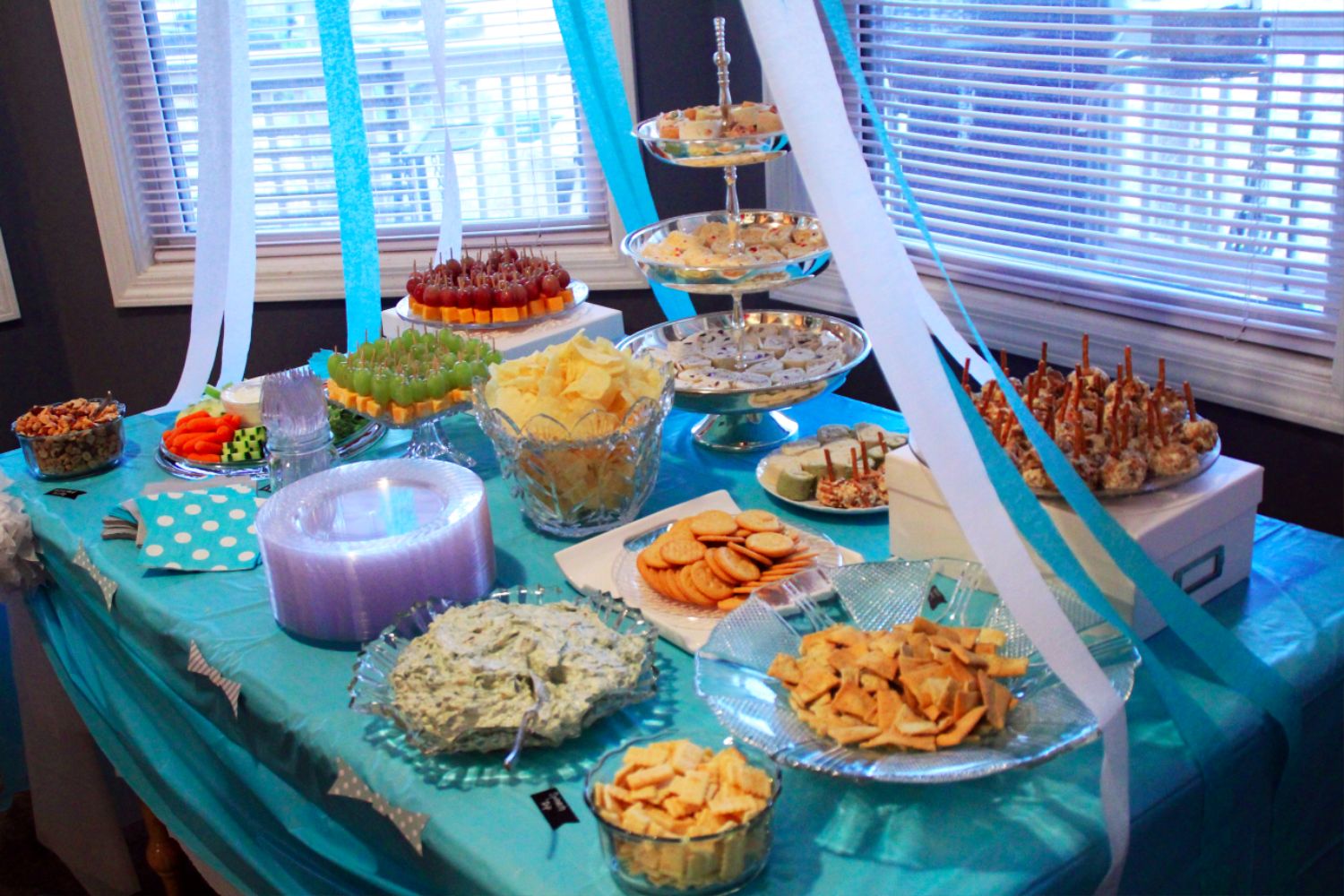 Let me first start out by saying that today's post is an extra special one for several reasons. Shall we begin?
1.) My friend Lauren from The Thinking Closet is expecting a beautiful, little girl! How exciting and Yay for her and her husband (who also happens to have the same name as my husband so he must be a good man).
2.) Several of us fellow bloggers who just adore Lauren have decided to throw her a virtual baby shower. I think this is the most brilliant idea since sliced bread. We may not all live close but we can still show her our love and how much we care. Plus it gives all of you an invitation to attend as well. This is probably the world's largest baby shower ever. (We should win a world record or at least something.)
3.) And probably the best reason of all is that even though these decorations are blue and yes, I know Lauren is having a girl, you can easily change everything to shades of pink and switch out the bow ties for hair bows. No one would ever know the difference.
The reason everything is blue is because my sister-in-law gave birth to the most precious little boy at the end of last year. My mother-in-love and I hosted a "Little Man Baby Shower" for her sweet family. I have been wanting to share details of this celebration and this just happens to be the perfect way to do so. You just have to use your imagination and think pink! Sorry Lauren! I still love you though. I couldn't go without sharing a picture of him too.
Baby Shower Decoration Ideas
Welcome to my home and Come on in for a tour of this baby shower and be sure to check out below how others are celebrating this birth with food ideas, game ideas, more decorations, free printables, and more. It is definitely the ultimate baby shower.
When guests first arrive, I set up a table where guests could sign the "guest book" or should I say "guest letter." I got a wooden letter from Michaels and spray painted it white so that it would match the room décor no matter what she used or changed it to later. Sharpie pens and markers were available for guests to sign their name and leave a little message for either Mom or Little Man.
Also on the table was a basket of party favors for guests to pick up when leaving. I got this idea from Pinterest and know it has been done a bunch of times in the past so I can't take credit for it. We drizzled buttered popcorn with blue candy melt and milk chocolate and then filled clear treat bags with it. I sealed them with washi tape and added a tag that read, "Ready to Pop!" You can also print your FREE printable tags HERE.
Decorations don't have to be complex either. Think simple but still elegant and classy. I placed a tablecloth and then just added a bowtie banner across the front. I actually made these bowties that are used throughout the party décor from a bow pattern I got in a paper kit from Target a long time ago. Go to Pinterest and search for a bow pattern, and I'm sure you will find something that you can use too. The circle banner was made using a circle punch and actually just sewing it together on my sewing machine.
Add a chalkboard sign which I also made from an old frame I picked up at a yard sale and spray painted the glass with chalkboard paint. I use this board for all sorts of parties and it only cost me pennies. These are the best projects.
Hanging above the entryway table and in the living room were tissue pom poms that I also made. These are so simple and inexpensive to make but look absolutely gorgeous. Darling Doodles has an awesome tutorial to help you make in any size or shape you want. She has tons of pictures to explain the whole process too which makes it even easier.
Now as guests make their way into the living room, they found a gift table set up in the middle of the floor and more tissue pom poms hanging from the ceiling.
As you make your way down the hallway into the kitchen, I hung a flag pendant banner that had pictures of the Mom's baby bump as it grew over the months. It was fun to see the whole process and miracle.
After you have mingled for a little bit, it's definitely time to dig in. For the food table which is always the main gathering area at any party, I wanted it to look spectacular and not just like food had been thrown out and ready for us to devour. I placed a tablecloth and then hung more of the tissue pom poms on the corners. On top of the table to name the dishes, I used chalkboard flag stickers and wrote each dish on the tag using a chalkboard marker.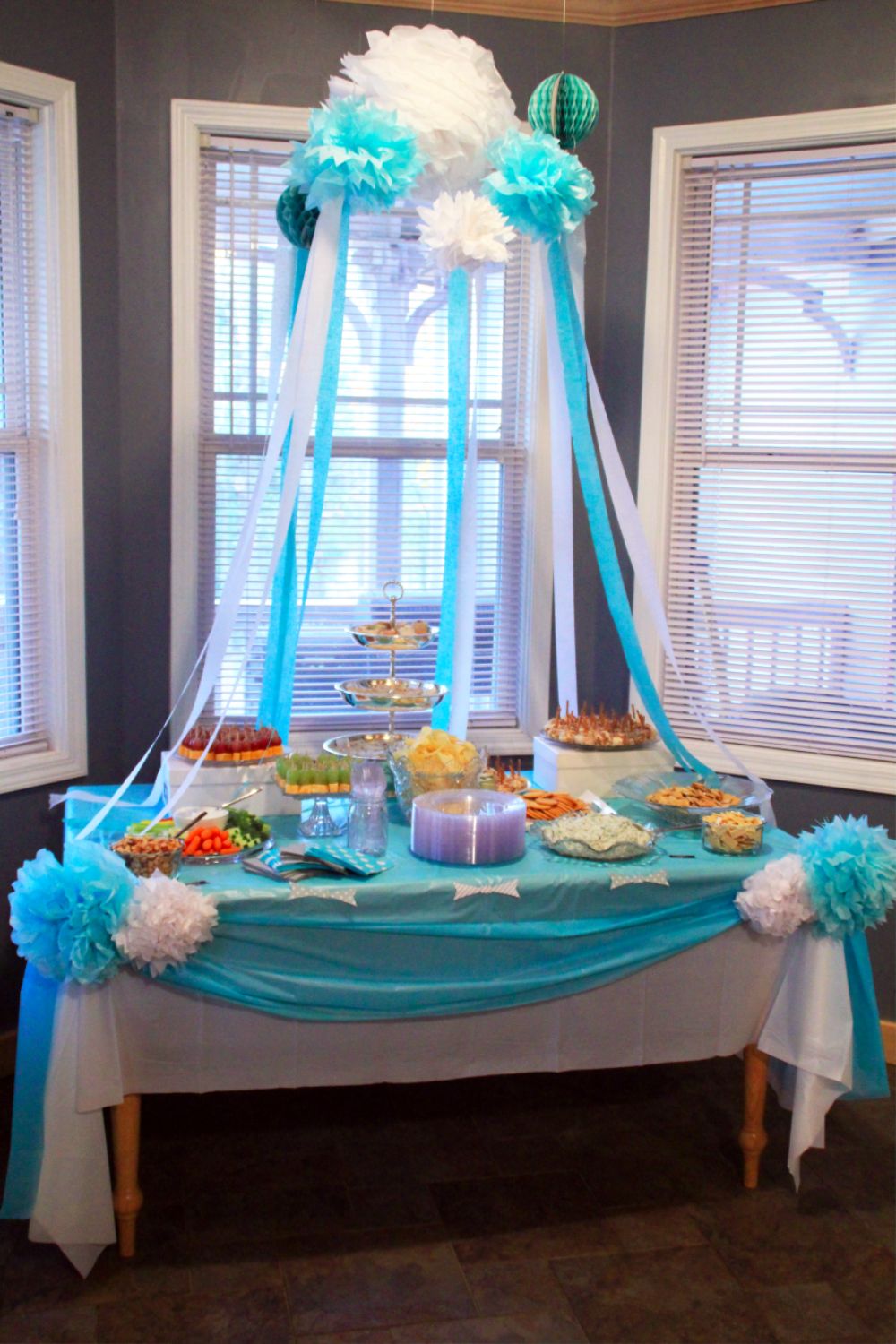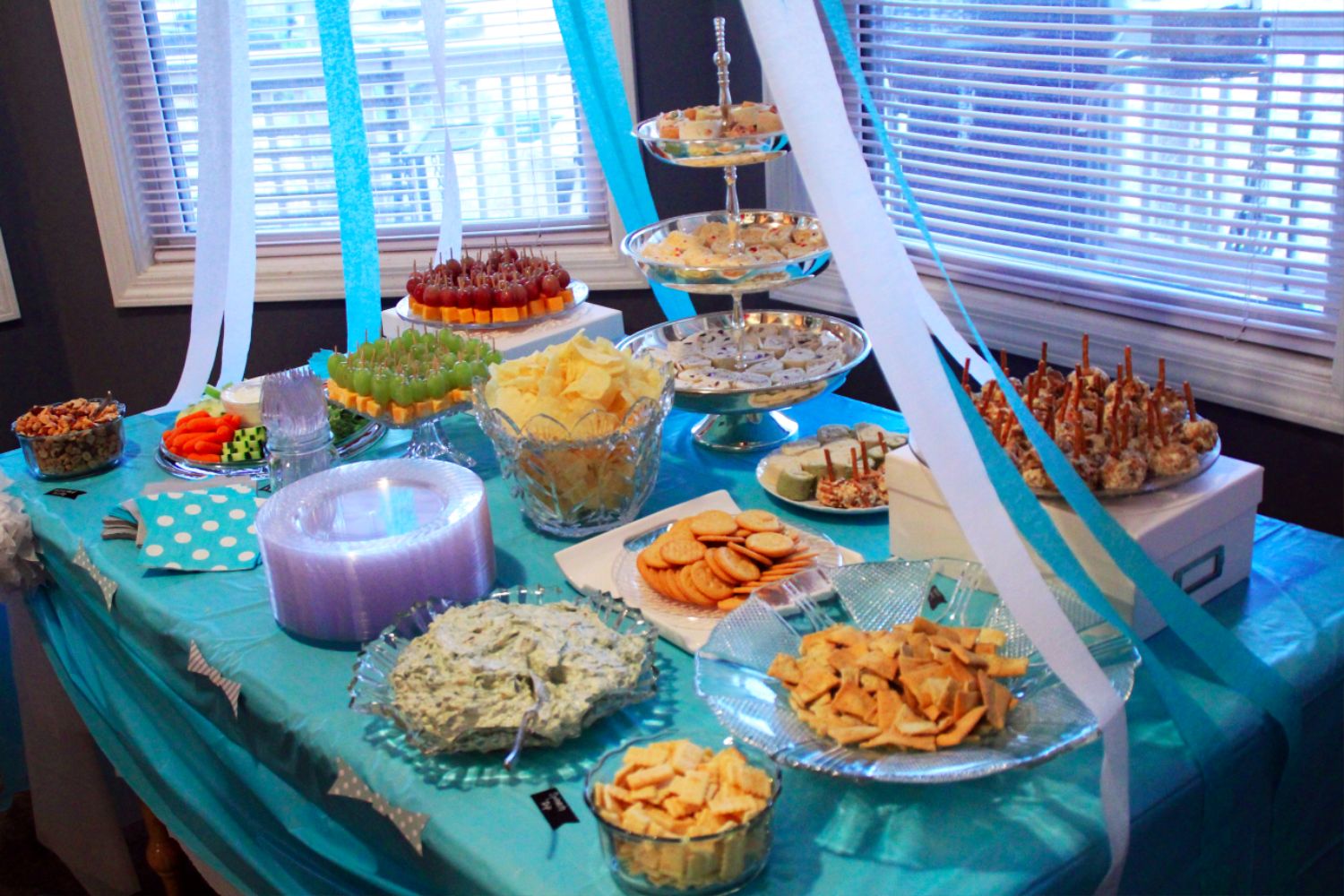 Keep your dishes simple too. We used clear crystal and silver. No need to go out and buy a bunch of stuff when you can use beautifully what you already have.
Now for my most favorite part: Drumroll please!!! The hanging centerpiece over the tablescape. I made more tissue pom poms and bought some of the round tissue honeycombs to give a little dimension. I tied clear fishing wire to the ends of each one and then hung them on the ceiling at different heights. You will definitely need someone to help you look while you are hanging to get them placed where you can see them all. Or you might have superhero abilities. If you do, then come over to my house and give me a hand.
Don't forget all these baby shower decoration ideas can easily be done for a girl shower by just switching the colors. The bow ties can also easily be seen and used as hair bows. It is just perfect and so versatile which makes this even better if someone is having boy and girl twins.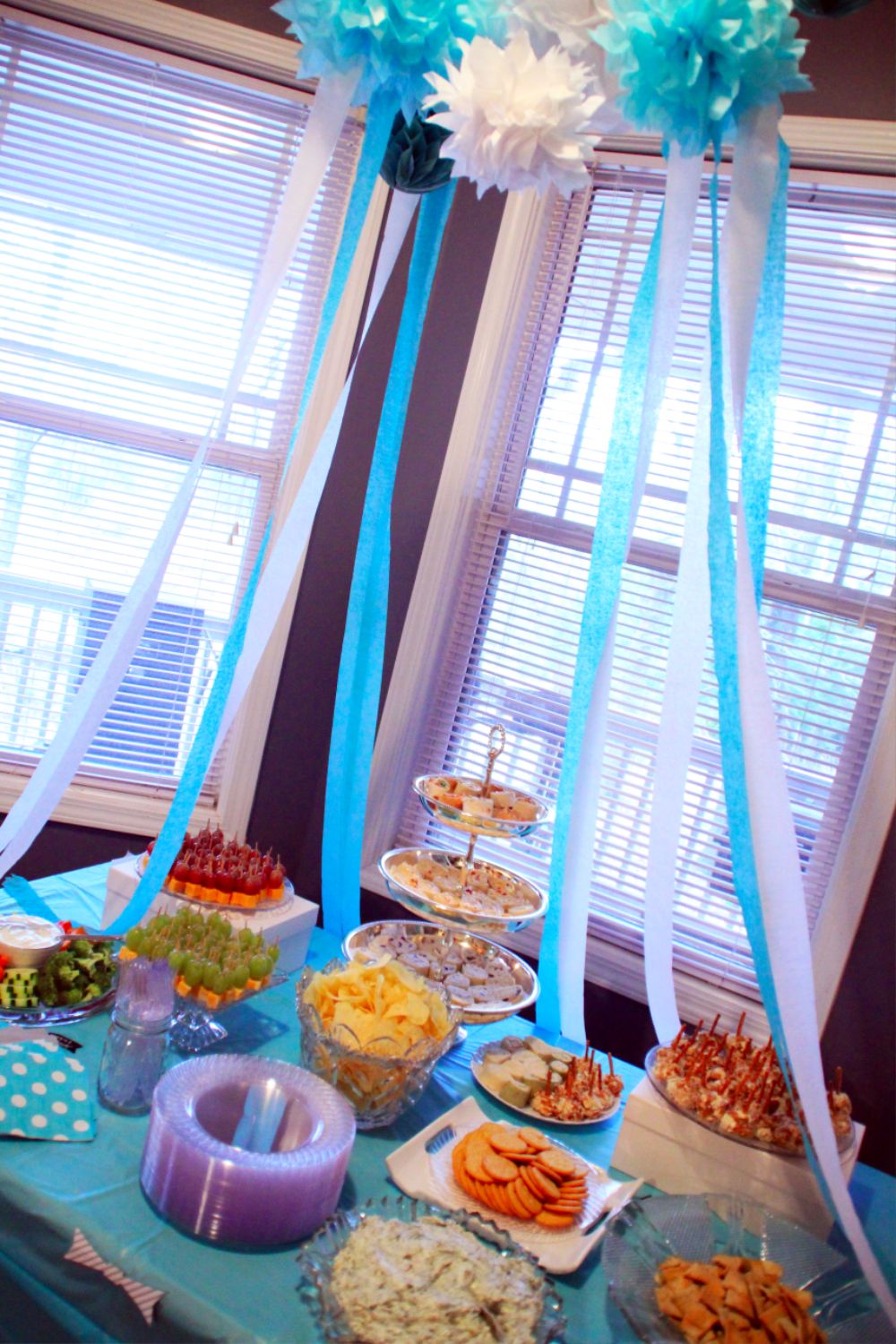 Now you are probably thinking what about the games and recipes? Don't worry. I have got you covered. Many other talented and amazing bloggers have some awesome ideas just waiting for you. Check out their ideas as well and get the full baby shower experience. So grab a cupcake and stay for a while!
1. Chai Latte Cupcakes with Cupcake Toppers by Two Purple Couches
2. Guacamole Shrimp Bites from Katie's Cucina
1. Customizable Baby Shower Invites by Tried & True
2. Baby Nursery Art by One Artsy Mama
3. "It's a Girl!" Printable Bunting Banner by Just a Girl and Her Blog
4. Baby Shower Decoration Ideas by Southern Couture
1. Onesie Making Station by unOriginal Mom
2. Free Printable Baby Shower Game – Alphabet Cards by Cutesy Crafts
3. Printable Baby Word Search by Simply Kelly Designs
4. Name That Rockin' Lullaby Baby Shower Game + Free Printable by Where the Smiles Have Been
1. Emergency Diaper Kit with Free Printable by From Wine to Whine
2. DIY No-Sew Baby Headband by Practically Functional
3. Personalized Onesie Tutorial by Ginger Snap Crafts
4. Personalized Onesie Dress by Create & Babble
5. Crochet Scalloped Earflap Hat and Flower by Repeat Crafter Me
6. Starfish Nursery "Love You" in Etched Glass Frame by Whatcha Workin' On?
7. Knit Bow Baby Headband by It Happens in a Blink
8. Super Sweet Month by Month Baby Stickers by Tori Grant Designs
9. Fearfully and Wonderfully Made Onesie by Sew Woodsy
Once again, a HUGE CONGRATULATIONS to Lauren and her husband on this miracle and addition to their family! This baby girl is blessed to be coming into this world with such sweet and loving parents as y'all.
Also if you have not already, please join me on Facebook, Pinterest, Instagram, and Twitter. I would love to hear from you with any comments, suggestions, or ideas you may have.
P.S. Please share this post with others if you enjoyed it and found it helpful. We love when you pass on goodness to others.
Some of the links in the post above are "affiliate links." This means if you click on the link and purchase the item, I will receive an affiliate commission. Regardless, I only recommend products or services I use personally and believe will add value to my readers.