I am a total sucker for new flavors and trying something new. Are you like that too? I just can't wait when restaurants come out with a seasonal or limited time only flavor. It must be something about that phrase "limited time only" that pulls me in. I don't want to be left out. Talk about good marketing.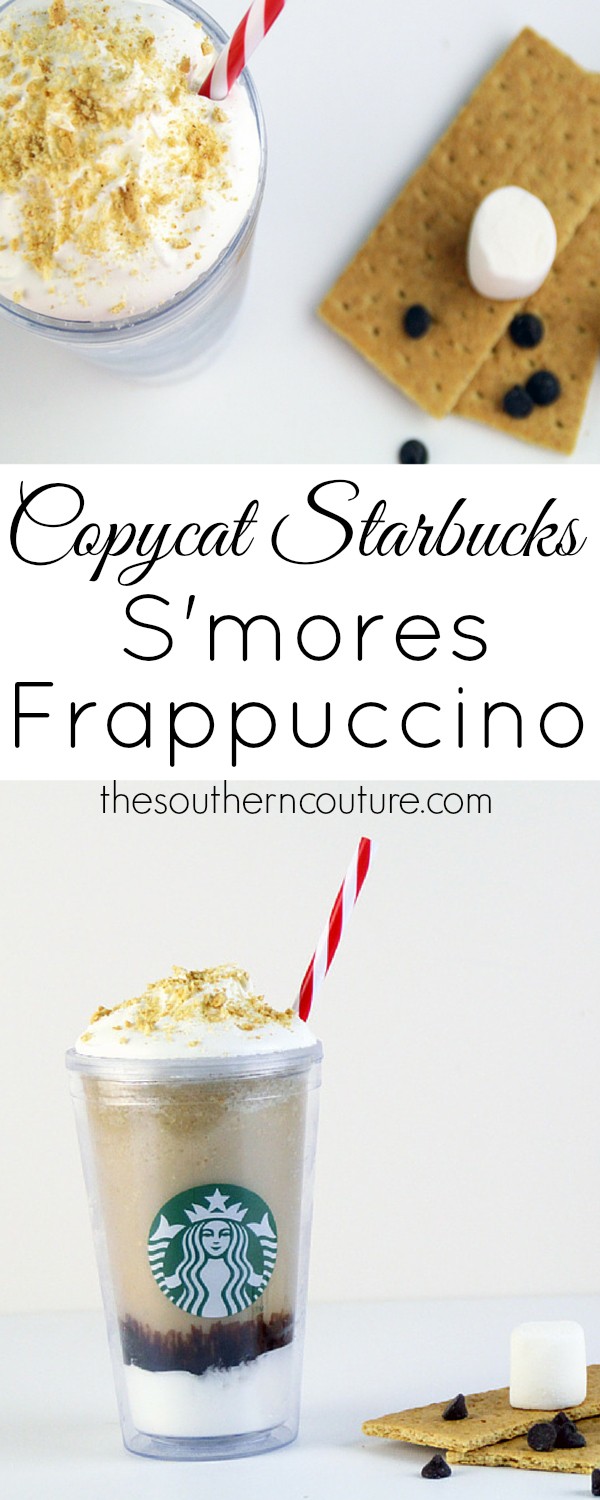 So when you are riding down the road with your husband and you get an email from Starbucks saying they now have a s'mores frappuccino, what else are you to do besides yell, "Turn the car around," and hope your husband doesn't get scared to death while driving.
Well this is exactly what I did when Starbucks released their s'mores frappuccino. I had Mark go immediately to let me try one. I just have to say that I wasn't disappointed one bit. I could definitely taste the toasted marshmallow, chocolate, and even the graham cracker. Everything that makes up a tasty s'more of course.
So we all know that Starbucks could really break the budget if we let it, so I thought I will be able to make my own from now own without spending $5 for a tasty treat every time I get the craving.
I just also saw that Starbucks is coming out with fan picks including red velvet cake, cotton candy, cinnamon bun, and several others. I absolutely can't wait to try those too. Hopefully I can make my own at home and share the yummy recipes with all of you. But for now, let's make this s'mores frap just in time for summer.
Ingredients:
¾ cup Brewed coffee
¾ cup Milk
2 tbsp Sugar
2 tbsp caramel coffee creamer
1 Crushed graham cracker
3 ¾ cup Ice
2 tbsp Marshmallow fluff
Whipped cream- enough to cover bottom of glass and top off drink
Chocolate syrup
In a blender, blend together the coffee, milk, sugar, ½ of the crushed graham cracker, and ice until ice is completely crushed.
*Feel free to add more ice or less depending on your desired consistency.
Mix the marshmallow fluff with the whipped cream.
Place a few spoonfuls of the whipped cream mixture to cover the bottom of the glass.
Next layer with the chocolate syrup.
Pour the blended coffee mixture to fill the glass.
Top with the remaining whipped cream mixture and graham cracker crumbs.
Yields 2-16 oz servings
Now all you need to do is put that straw smack dab in the middle of all this yummy goodness and slurp until every last bit is gone. It really is that delicious. You may just be disappointed when it's all gone.
Forget the campfire now. You can enjoy s'mores through a straw without having to build a fire. Plus if you really love s'mores, then try my tip for making your own s'mores dessert using just your microwave.
Enjoy the little things in life like a tasty dessert that you can make anytime you like.
Also if you have not already, please join me on Facebook, Pinterest, Instagram, and Twitter. I would love to hear from you with any comments, suggestions, or ideas you may have.
P.S. Please share this post with others if you enjoyed it and found it helpful. We love when you pass on goodness to others.