Surprise someone special to you with this Non-Traditional Easter Basket Idea for Bible Journaling Fans. The organization bags doubles as the Easter basket. 
A HUGE thank you to Dayspring for sponsoring this post and encouraging all of us to pursue and strengthen our relationship with Jesus Christ. Some of the links below are "affiliate links." This means if you click a link and purchase an item, I will receive a small affiliate commission that helps me to be able to continue with this blog and hopefully continue to inspire you as well.
Here comes Peter Cottontail, hopping down the bunny trail… Song in your head now? It happens to be the cutest little song that brings back memories from my childhood singing it with my Mom and Sister. Peter Cottontail means though that Easter is definitely on its way!
We all know that I am a huge Bible journaling fan obviously and chances are you are too if you are reading this. Or perhaps you know someone who is and are looking for a few ideas for Easter. You have come to the right place. (Plus you can share this post with a husband who might need a good hint for an Easter basket for you too.)
The image above shows the whole "basket" put together, but I want to walk you through each part and also give you a few tips for making an Easter basket really gorgeous. Now an Easter basket isn't much without the actual basket. I decided to put a spin on the traditional basket and use something that will also be extremely practical while adorable at the same time.
This is the spankin' brand new Illustrated Faith organization bag that you can also get a matching kangaroo pouch to go along with it. This bag is perfect for on-the-go, workshops, small groups, traveling, or just moving around your house to journal.
This bag seriously holds a ton of stuff. I couldn't believe how much I put in mine without it even feeling bulky or awkward. Talk about pockets and pouches. It definitely has those too. Plus I can store my journaling Bible right inside without any problems. The sides have zippers making it easy to open and find anything inside. One side has 2 mesh pockets with a large button pocket behind those. The other side has these 2 clear pouches to hold smaller objects like papercuts and washi tape. Not enough pockets and storage yet? Well you have 2 more pockets on the sides of the bag as well.
You might have seen that beauty of a Bible just sitting there looking fabulous in all its floral goodness. This is the Journal the Word Bible in the Floral design from Dayspring. That cover is just stunning with the pops of coral and aqua. It is the King James Version and has lined, 2″ margins. I'm in love for sure!
Now that you have your "basket" and journaling Bible, your friend or loved one is going to need some pretty cool supplies to fill it up with. When I want stickers and craft supplies to use in my own Bible, I always look at Illustrated Faith's stuff from Dayspring first. They never disappoint. Talk about the cute factor. Below are a few basic supplies that are great for beginners to really get them started. Below are Books of the Bible tabs, Hexie epoxy stickers, Homespun Alphabet clear stamps, Tape runner, and Washi tape with several quotes of scripture.
I also splurged and included the Illustrated Faith Watercolor set that also comes with a paintbrush and the tin case to use to mix colors. Every page needs a little pop of something to help it stand out which is where these Pom Pom clips come in to play. I love all the different colors too. You can find all these products and more at Dayspring to get their basket filled and get them on their own Bible journaling adventure.
Now let's put this all together and add a few simple touches to really make it pop. There a few ways you could go about doing this. You can pack the supplies in all the pouches and surprise them that way when they open it. OR you could put it all on display with some Easter grass and tissue paper like I did.
I stood the journaling Bible up in the middle and made sure the bag was completely zipped on both sides. Then I just started arranging all the different supplies with the taller items in the back. Make sure you throw some sweets and goodies in there too. I added some "Bunny Cotton Tails" cotton candy and a chocolate cross and chocolate Easter eggs. After all, it is an Easter basket and they will need something sweet to snack on after all their journaling work.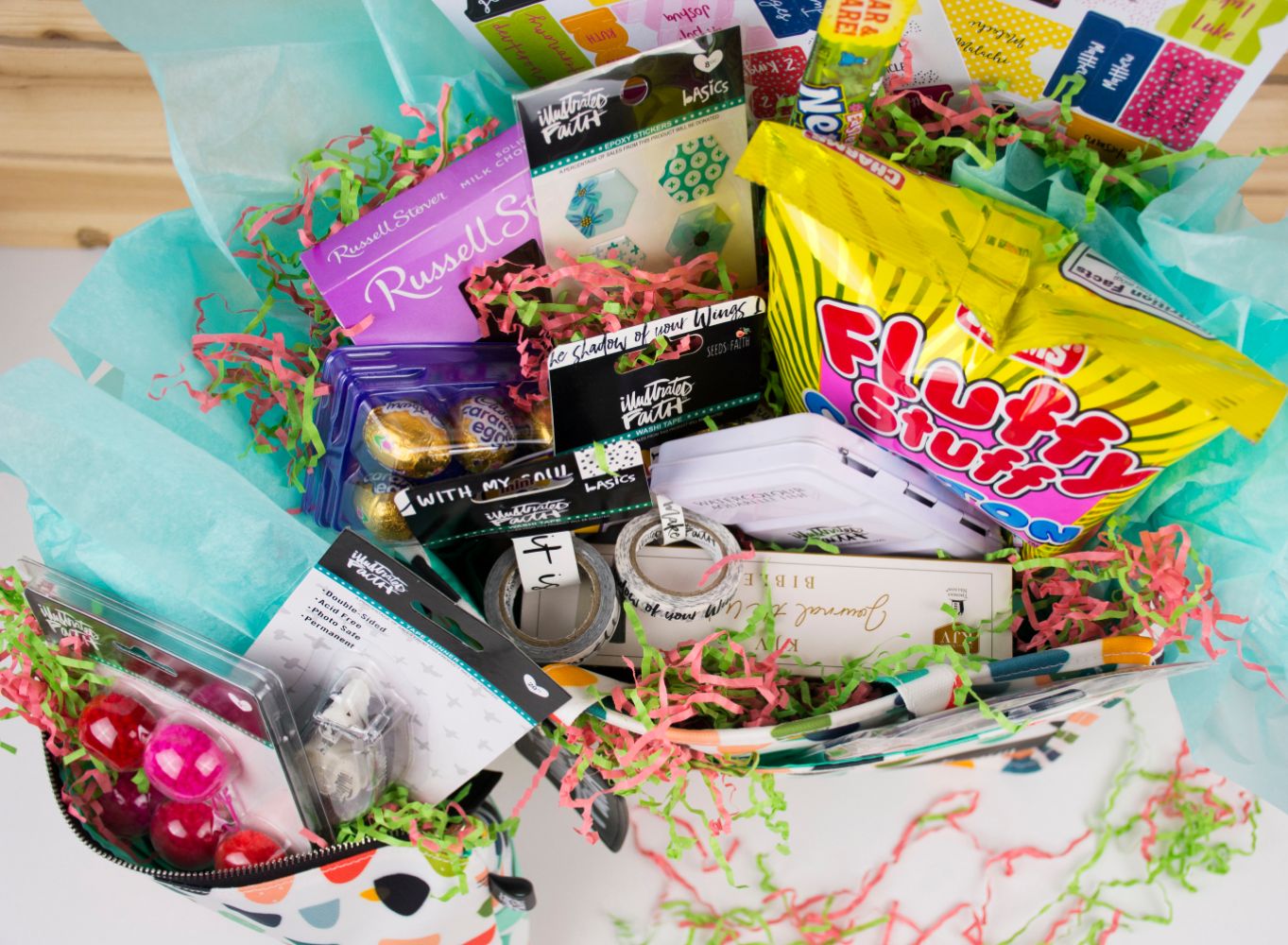 I also kept the matching kangaroo pouch out separate and added more smaller supplies to it. Add some Easter grass and tissue paper to the pouch and "basket" to fill in any spaces and also add pops of color.
They will also love this tag that hangs for them to put a name card in or an inspirational quote on the backside. The scripture at the bottom is also a favorite and a great place for them to start with an entry in their new Bible.
You are truly going to make someone's day with this Bible journaling Easter basket. Plus think about the seed you will be planting as they start their Bible journaling adventure. I know that lives will be touched even with the smallest of gestures. Plus treat yourself this Easter and grab one for you too. I am in love with mine and again so shocked at how much it will hold.
Click HERE to start shopping now and make someone's day!!!
ENROLL NOW IN MY 5 DAY BIBLE JOURNALING ECOURSE FOR FREE!
Get exclusive tips and tricks with my 5 Day eCourse available exclusively to subscribers!