Preparation is the key to success. Find out tips for preparing a workstation for Bible journaling so you end up with the most beautiful entries. 
The key to success for any project is planning ahead and being prepared. The same applies for Bible journaling. There is nothing more frustrating than to be in the middle of an entry and notice that you cannot find the most important supply you needed to bring the whole design together.
Follow these simple, but HUGE steps for preparing a workstation for Bible journaling. KEEP READING BELOW for a huge announcement for a FREE resource just for YOU!
#1. Depending on what supplies I'm using and how much mess they may cause, I will lay down a sheet of kraft paper to cover my craft table in my office. Kraft paper works great because it is thick, and you do not have to worry about anything going through it and ruining your table.
#2. To protect the other pages in your Bible, cut a small section of kraft paper to lay under the Bible page you are working on. I usually keep it in place by taping the corners down with washi tape.
#3. Place another sheet of kraft paper on the opposite side to protect the page you are not working on.
#4. On a scrap piece of paper, I start drawing out a rough sketch of my entry and deciding what supplies I will use. Having a rough sketch will help you prevent running out of space and not being able to complete a verse or sentence you are illustrating.
I do not always do a rough sketch, but it is helpful when first starting out to help prevent any major mistakes.
#5. Once you have an idea of what you will draw and write, set out the supplies that you will be using so you have everything ready to go and in one place. You can even practice with your supplies on scrap paper or on the extra pages in the back of your Bible before starting.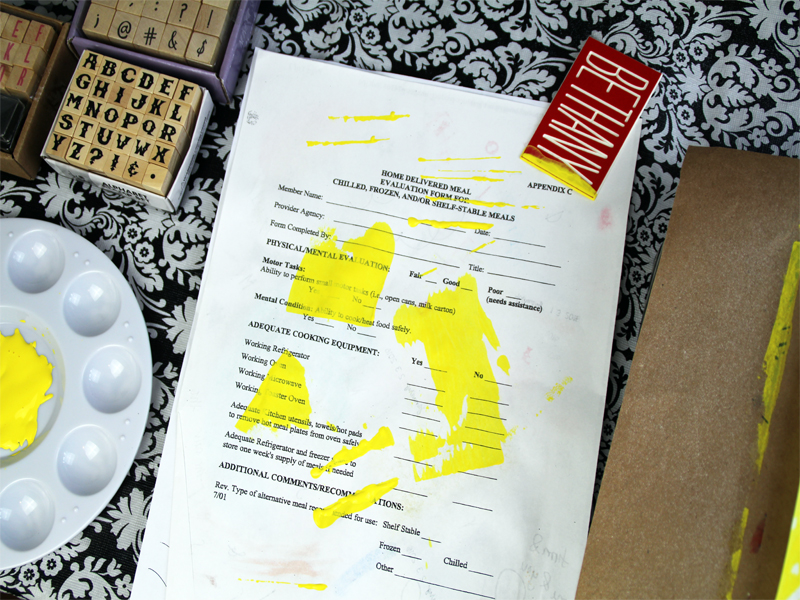 Now all you have left to do is actually get started in your journaling Bible. You will be glad you prepared and have everything ready to go. The last thing you want to do is knock over a bottle of paint and ruin your Bible.
You will thank me later. Trust me. And if you are wondering what fun and new supplies to check out next, then have a look at my growing collection of Bible journaling supplies or any other techniques to use in your own Bible.
Now DRUMROLL Please…
I'm so excited to announce this exciting opportunity just for YOU! I now have a FREE, 5 Day eCourse for Bible Journaling beginners to get you started. We will cover fears to overcome that may prevent you at times from just diving in, supplies to get you started, even steps to take for your first entries, and so much more!
SIGN UP HERE TO ENROLL NOW!!!
If you are looking for even more information on the eCourse, you can CLICK HERE too to sign up!
Let me know if you have any other questions about Bible journaling or any way I can help in the comments below. I can't wait to see you in the FREE eCourse.
And the greatest of these is love…

P.S. Please share this post with others if you enjoyed it and found it helpful. We love when you pass on goodness to others.
Some of the links in the post above are "affiliate links." This means if you click on the link and purchase the item, I will receive an affiliate commission. Regardless, I only recommend products or services I use personally and believe will add value to my readers.