The pages of a Bible are thin and may need to be prepped before using certain art mediums. Prepping Bible journaling pages with gesso before starting an entry is simple and extremely helpful.
Some of the links below are "affiliate links." This means if you click a link and purchase an item, I will receive a small affiliate commission that helps me to be able to continue with this blog and hopefully continue to inspire you as well.
First I must say Happy Easter to you and your family! This week is such a special time with Palm Sunday this past weekend and Good Friday coming up. All leading up to the big day on Sunday. Easter eggs and seeing the joy on kids faces as they hunt through the grass is fun, but let's not forget that One greater than any of us is resurrected and still ALIVE!!! I hope you enjoy the time with family and loved ones.
Perhaps you are planning a special entry for Easter in your journaling Bible. Well you may just want to check out this tutorial for prepping Bible journaling pages with gesso before getting started. The page above was prepped before getting started using watercolors, and you can't even tell. I get so many questions from some of y'all asking if you should prep your Bible pages or not, what to use, when to prep them, etc. Today I want to clear the air up completely and hopefully get all your questions answered.
Prepping Bible Journaling Pages with Gesso
Before we get into the nitty gritty questions, you can also check out this video tutorial on my YouTube channel that shows you exactly how I'm using it. Sometimes that visual is an extra help. *Also while you are there, be sure to subscribe to my channel.
You will find that some supplies you use will be much more messier than you imagined especially when you start working on Bible pages that typically are much more thin than others. That is where gesso comes in.
What exactly is gesso?
Gesso has a consistency similar to white acrylic paint used to prep your Bible pages. It makes the page stiffer and with a bit of texture making it easier to use acrylic paint, watercolors, gelatos, etc. on your pages.
What brand do you recommend?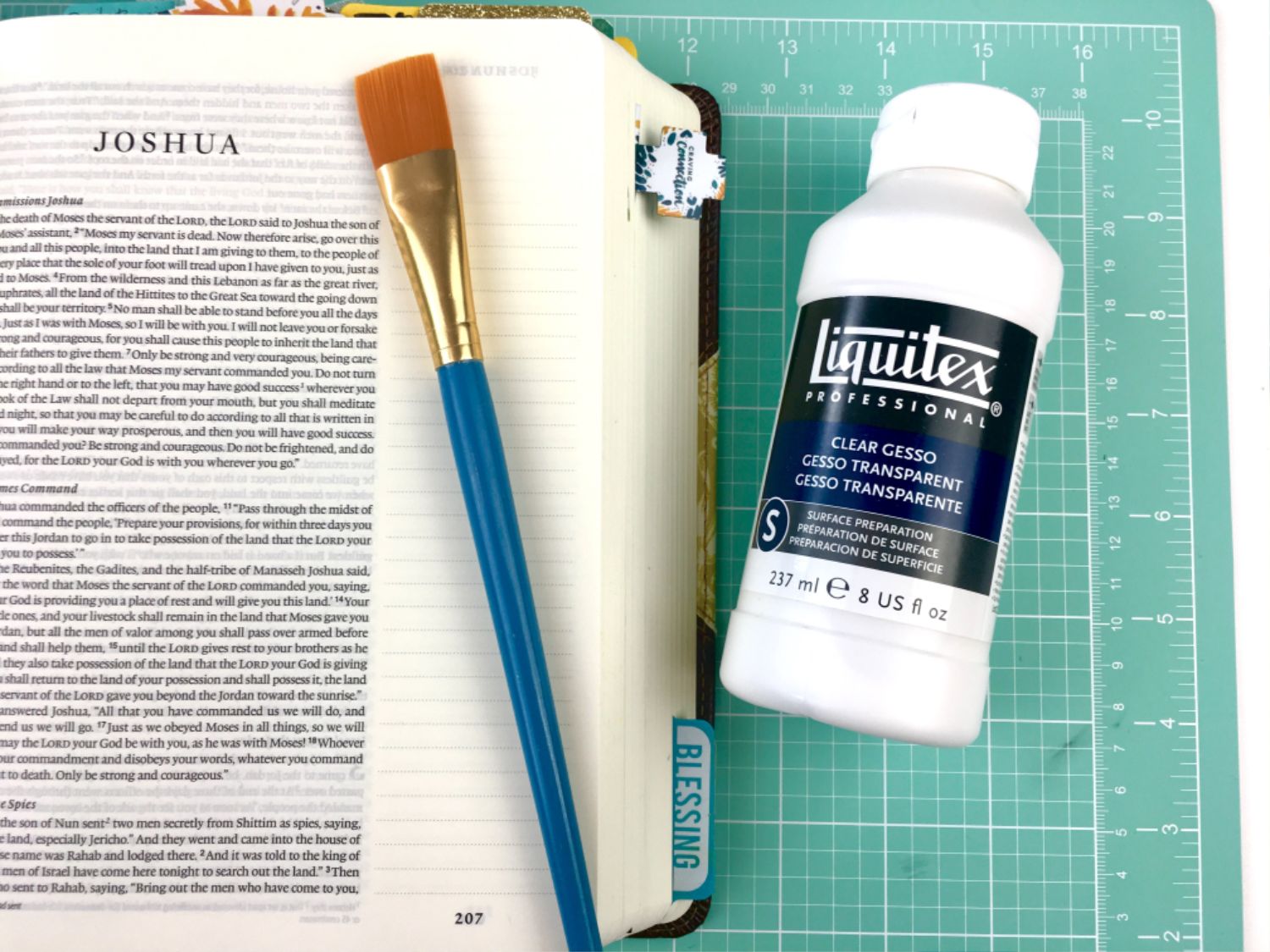 When should I prep my page with gesso?
You do not have to prep every page with gesso. Think if the supplies may bleed through the color to the opposite side of the page, then you may want to prep the page with gesso. I definitely use gesso more with watercolors and sometimes with gelatos if I'm using a more wet technique. My pages do not usually need to be prepped before I use acrylic paint as long as I apply it thin enough.
If you ever are unsure, it never hurts to test the art medium first on a spare or extra page in the back of your Bible before using it on your actual entry page. Play around with your supplies as you go and you will start to learn and see what entries may require gesso.
How do I use gesso?
Brush the gesso onto the page or area that you will be working on. Be sure to only paint a thin coat and do not go overboard.
Allow the gesso to dry completely once you have brushed it all on. I use a heat gun to speed up the drying process. It will dry completely clear so do not worry when you are brushing, and it seems to cover the scripture. The image below is an actual page with gesso painted on and completely dried. You cannot even tell it is on there. The page only has minimal crinkling.
Some people will notice a gritty texture at times and depending on the brand they use. If this happens to you, take a dry cloth and brush over the page lightly to remove any small grits of gesso that may have been left behind. Be very gentle at this point.
Once your page has dried and is smooth, you are ready to start working on it.
Have you ever made mistakes and not used gesso first? What did the back side of your page look like?
My very first entry was completed in Genesis to depict creation. I used watercolors and weighed my brush down with excess water. The colors bled right through the page to the opposite side. I can always use the color in an entry on the back side, but it really would have helped to have had some gesso to prep the page first.
Now you just need to enjoy the whole process most importantly! Don't worry too much about shadowing and bleed through to the back of the page. Just enjoy this time spent with the Lord and mediating on scripture.
Whether you are new to Bible journaling and trying to learn everything you can or have been doing this for quite some time, I encourage you to check out my eBook, Adventures in Bible Journaling: An Extensive Beginner's Guide to Art and Bible Journaling. You will find tips and tricks to help you overcome any fears of getting started, a huge lists of supplies to try out for yourself, and step-by-step tutorials using numerous different art supplies. You will find printables and videos as well to walk you through the entire process.
For this week only to celebrate Easter, I am going to be offering the GOLD package at a special discount using coupon code, EMPTYTOMB. The discount will only be good through April 15, 2017 so grab yours now! You can click HERE for more details on all the packages.
Click here to get 20% off the GOLD package using coupon code, EMPTYTOMB!
I hope you enjoy this week and please share your Easter Bible journaling entries with me on social media. I would love to see them and get inspiration for my own as well. And the greatest of these is love,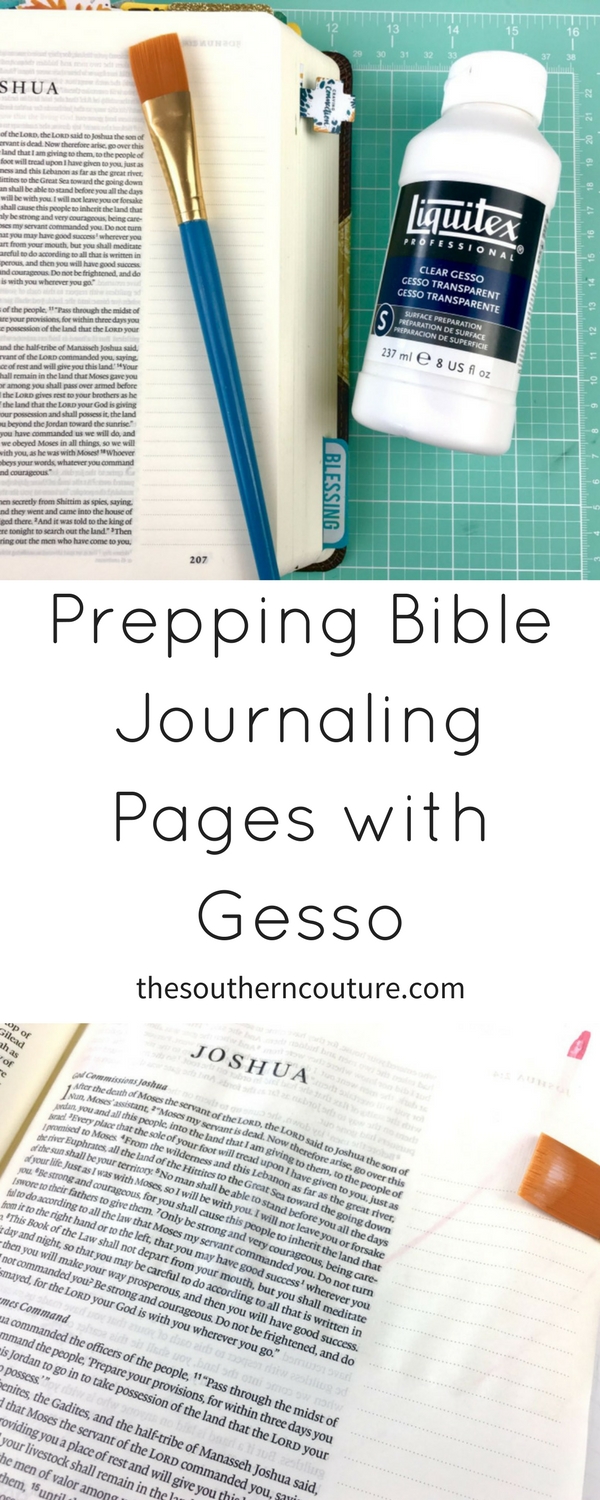 ENROLL NOW IN MY 5 DAY BIBLE JOURNALING ECOURSE FOR FREE!
Get exclusive tips and tricks with my 5 Day eCourse available exclusively to subscribers!