Remember Mom this Mother's Day with a heart shaped photo wreath that displays all the fun memories you had together.

Some of the links below are "affiliate links." This means if you click a link and purchase an item, I will receive a small affiliate commission that helps me to be able to continue with this blog and hopefully continue to inspire you as well.
With this digital age that we live in, it can be very easy to have a million pictures stored on our phone or cameras. But let's be honest. How many of those images do we ever actually print and display or even store them in an album for others to see? Very few I'm sure! Today we are changing that!
Start printing pictures now, specifically those of you and your Mom, for this wreath idea. I'm back again for another wreath idea for this month's 12 Months of Wreaths Challenge. My friends are also sharing their DIY wreath ideas so stick around for that too. You will find them below.
This wreath will be a perfect DIY gift idea for your own Mom, but also great to hang on your own inside door to remember your Mom and all the memories you share together. You might even want to have a craft night and make one together. It is so simple and easy to put together too.
Heart Shaped Photo Wreath
Supplies:
Metal wired heart-shaped wreath
Photographs
Spray paint your heart-shaped wreath and let dry.
While the wreath is drying, trim down your photographs if needed so they aren't too large for the wreath depending on the size you use.
Start playing around with the placement of your photo prints. Attach them to your wreath using miniature clothespins.
Display your wreath with all your fun memories and celebrate your Mom. Now you can enjoy them and be reminded of all those good times instead of them being packed away. Plus this would be a great DIY Mother's Day gift for your own Mom to remind her of all the good times and memories you made together.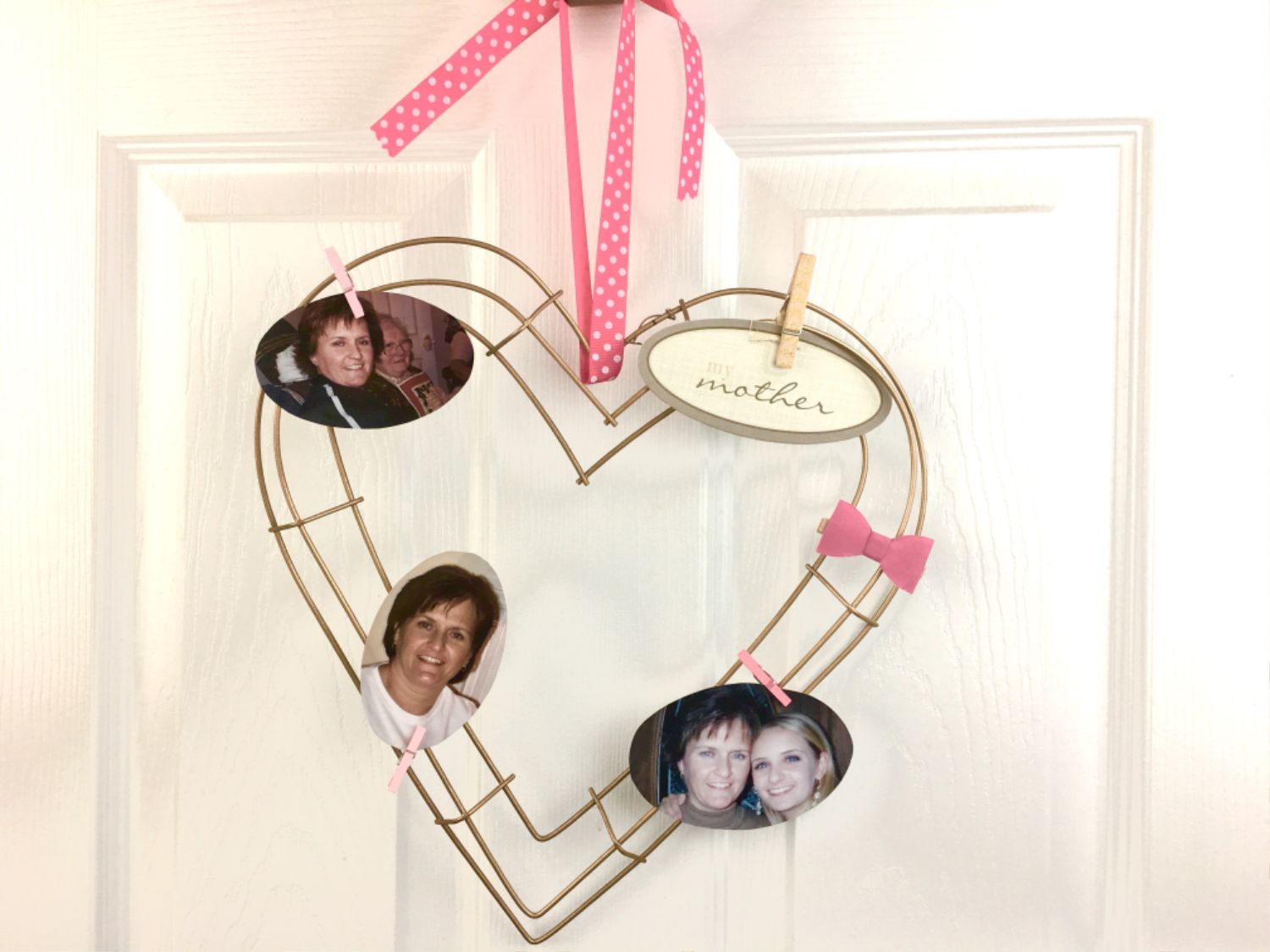 Now for the other wreath ideas and this month's challenge.
Welcome to 12 Months of Wreaths – April!
Curly Crafty Mom – Simple Spring Wreath on Burlap Wrapped Embroidery Hoop
Mom Home Guide – April Flowers Wreath
The Southern Couture – Mother's Day with a Heart Shaped Photo Wreath
Follow your Hosts and Co-Hosts:
Thanks again for joining us! We will be sharing a new wreath once a month in 2017!

Are you interested in sharing a wreath with us one (or more) months? We are accepting guest hosts! Email carrie (at) curlycraftymom (dot) com if you are interested!
Happy Early Mother's Day too! And the greatest of these is love,