Don't believe the myth that you have to be artistic to enjoy Bible journaling. Check out these tips for Bible journaling no matter the artistic skill level. 
Some of the links below are "affiliate links." This means if you click a link and purchase an item, I will receive a small affiliate commission that helps me to be able to continue with this blog and hopefully continue to inspire you as well.
There is this myth that floats around out there that says if you can't draw and paint like the best, then you can't enjoy Bible journaling. I hope you don't believe this lie because it simply is not true!! I cannot draw very well or paint like the masters do. But what I do know how to do is enjoy Bible journaling.
Let's start by defining what an ARTIST really is. I think this is any person that enjoys using any type of art supply whether that's a pencil, pen, marker, colored pencil, acrylic paint etc. Being an artist has nothing to do with precision and technicality. After all, Bible journaling is about growing closer to God and strengthening that relationship.
The picture above did not require any artistic or advanced drawing technique. I didn't paint some outstanding masterpiece using different advanced techniques. I took the concept of doodling, which I'm sure we all enjoyed as kids or in high school. Doodling made me think of my high school notebooks which gave me the idea of making the page appear as a piece of notebook paper. But how exactly can you create entries without having to be so elaborate…
Focus that you are spending your time in the Word.
Don't be too hard on yourself. Mistake are what make the entry unique and beautiful.
Use alpha stickers, decorate stickers, and stamps instead of drawing everything.
Now where did I even get the idea of doodling? The May monthly devotional kit from Illustrated Faith is all centered around this exact idea. This month's theme is "Doodles to Live By." I have found that these kits are the perfect way to enjoy a different devotional with supplies for entries every month without having to "be artistic" on your own.

You will want to check out the video below to see an unboxing and more detail of what's included because you can grab the kit at 25% off today only (4/24/17) using the coupon code FAITH25 at Dayspring. This coupon code is good storewide so be sure to check out their other Illustrated Faith items too.
Each kit includes:
1 plastic pouch
1 devotional booklet
1 clear stamp collection
1 roll of washi tape
1 sheet of cut-out paper pieces
2 cardstock sticker sheets
3 tip-ins
1 magnet
1 thank you card from Shanna
With the alpha stickers and other cardstock stickers, you don't have to worry about handlettering or drawing anything if you don't want to. The clear stamps also make it easy to add extra touches without having to draw them yourself.
I have also found that the devotional booklets are a great tool to illustrate in if you don't have a journaling Bible yet. The booklets leave plenty of space to illustrate that day's devotional using the supplies in the kit too.
I used the supplies in the kit for my entry centered around day 1 of the devotional. Like I mentioned before, doodling brings back so many memories of high school and doodling on my notebooks. I continued that same idea with the extra space on day 1 in the booklet.
I want to challenge you to do the same and step out of any fear you may have had recently from not enjoying Bible journaling. A great way to do that is with these kits. Grab yours now and then be sure to share your posts with me on social media. I would love to see them.
And the greatest of these is love,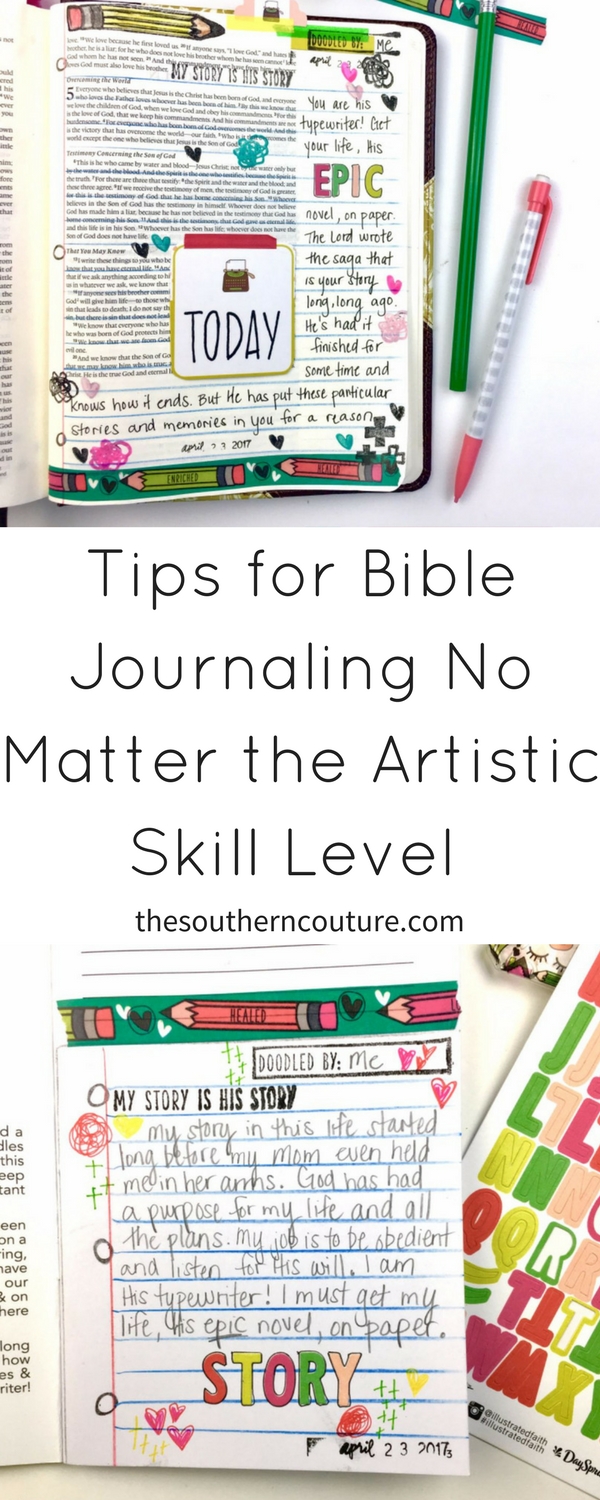 ENROLL NOW IN MY 5 DAY BIBLE JOURNALING ECOURSE FOR FREE!
Get exclusive tips and tricks with my 5 Day eCourse available exclusively to subscribers!