Can you tell I am slightly obsessed with Bible journaling these days? I just can't get enough of it. I find that I look forward to being able to spend that time alone in worship and in creativity. Exploring new and fun ways to illustrate verses is definitely a favorite of mine now.
*Have no clue what I'm talking about? Be sure to check out these other Bible journaling posts. You can start with my beginners guide to Bible journaling too.
Bible Journaling with Acrylic Paint
So painting in your Bible? I know it sounds a bit odd huh? I didn't even know it was really possible until I started stalking the Illustrated Faith website. When I read about it, it sounded like such a fun concept. I couldn't wait to try it myself. Now it has definitely become one of my favorite methods (along with gelatos).
For this entry I used:
Old name badge card or credit card
Paint tray or scrap paper
Place kraft paper under the page you are working on and one on the opposite side to protect the other pages.
Now for the fun part with the paint. Don't be timid with this either. Practice on pages in the back of your Bible or even on scrap paper to get the technique the way you want it.
I squirted a little bit of paint on a paint tray but then found it easier to work with the paint on a scrap piece of paper. Dip your old card into the paint and then just start wiping the card over the page in different strokes and patterns. There really is no rhyme or reason.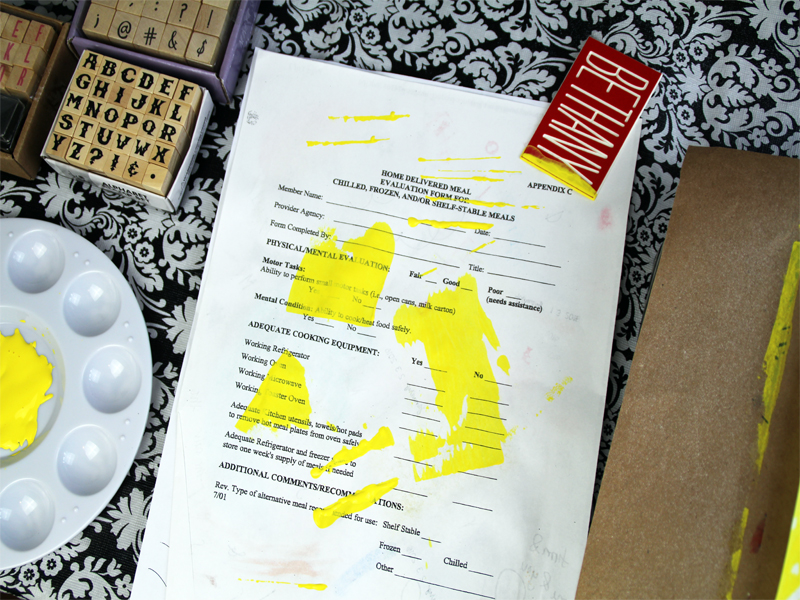 As you can tell on my page, sometimes the card would make a complete covered stroke of paint and other times the paint would be more sporadic. I actually love it.
I started with yellow for the base color and then would apply different colors one a time once the previous color had dried in order to not smear them together. I used an embossing heat gun to dry the paint between colors which helps to speed up the process.
For the final layer of paint I used a gold glitter paint that paints on clear with gold glitter in it. It is such much easier than using actual glitter but still gives that shine.
One thing I also love about this paint is that if you are careful to paint it thin enough, you are still able to read the words of the Bible and not cover it completely.
Before I get to the rest of this page, I want to explain the scripture I illustrated a little bit. The passage is from Genesis 41:38 And Pharaoh said to his servants, "Can we find a man like this, in whom is the Spirit of God?" referring to Joseph. The story of Joseph and his faith is astounding to me. I wanted to portray the coat of many colors with all the different acrylic paint colors. His coat is what began what he thought was the trouble and harm for him that turned out to be his biggest blessing and the favor of God. There is definitely a lot we can learn from that one truth alone.
So now let's get finished with this entry so you can start your own too.
I then used paper embellishments, the different pens, rubber stamps, stickers, etc. to decorate the page and quote part of the verse. You do not have to hand letter everything if that is not your strength. I love using different stamps and stickers just as much.
At the top of the page, I used my tab punch and scrapbook paper to make a tab for quick and easy reference to this scripture when I need it. I attached it using washi tape.
Don't forget to also date and stamp your page so you will know exactly when you created the page.
Below in the photo is the back of this page. You can see that the paint didn't really bleed through. There is only the shadowing of some color. When you use the card, the paint is able to apply very thinly. The only paint you can really see is at the top when I made my first stroke and accidentally pulled the paper up. *I would also recommend using washi tape to tape your page down to the kraft paper to keep this from happening.
I hope you will find this method of acrylic paints just as fun and enjoyable as I did. Let me know in the comments below if you try it for yourself too. Also let me know if there is any particular method or supply you would like for me to try and show y'all.
Also if you have not already, please join me on Facebook, Pinterest, Instagram, and Twitter. I would love to hear from you with any comments, suggestions, or ideas you may have.
P.S. Please share this post with others if you enjoyed it and found it helpful. We love when you pass on goodness to others.
Some of the links in the post above are "affiliate links." This means if you click on the link and purchase the item, I will receive an affiliate commission. Regardless, I only recommend products or services I use personally and believe will add value to my readers.
ENROLL NOW IN MY 5 DAY BIBLE JOURNALING ECOURSE FOR FREE!
Get exclusive tips and tricks with my 5 Day eCourse available exclusively to subscribers!