Look no further for all you need and where to get started with Bible journaling for beginners. Check out some basic tools to get you started on this fun adventure.
Bible journaling, so what exactly is it? You may have also heard it called Illustrated Faith. For some of you, this may be a new idea or concept. For others, you may be experts and way more experienced than I am. And maybe you are just in between somewhere. No matter where you are, I hope that today you will ultimately leave feeling inspired and ready to grow your relationship with Christ.
BIBLE JOURNALING
I would love to share more of my Bible entries and supplies that I use in future posts, but today I want to just start by introducing this fun concept to y'all and get you pumped, ready, and excited to get started too. There is so much to share that I really don't want to overwhelm you with so much information to begin with.
One note before I get started, I understand that not everyone may believe in the same way that I do and that is okay. I don't expect you too. This has personally been a fun journey for me to find a deeper relationship with my Savior and enjoy a fun hobby while learning new artistic techniques at the same time.
I have been over on Instagram lately sharing my recent Bible journaling entries so be sure to follow me over there where I will be posting more as they come along.
I am definitely a beginner with this that has researched it a TON lately. I just can't get enough of it. It has been such a blessing to me which is why I want to share it with y'all too.
WHAT IS BIBLE JOURNALING?
Well the term Illustrated Faith was actually coined from Shanna Noel of illustratedfaith.com. And it is exactly what it sounds like.
Photo from Illustrated Faith
In my words, I like to explain it as taking art, scrapbooking, doodling, etc. and applying it to your Bible to really bring the scripture to life in a new way.
We all can be guilty of reading our Bible and just checking it off our To-Do list, but when's the last time you just sat down to meditate on God's word and really apply it to your life?
This is exactly what Bible journaling forces you to do. As you are working on a page, you are constantly dwelling on and quoting scripture the entire time without even realizing it.
I play worship music in the background (Lauren Daigle is my favorite if you are looking for suggestions.) and really get my mind away from daily distractions to truly focus on God's word.
I have heard many pastors in the past speak and pray about worshiping God in EVERYTHING we do. Sometimes it would confuse me to think about really worshiping God while I'm doing laundry or vacuuming. But now I am understanding it so much better. While I'm enjoying painting, scrapbooking, journaling, etc. in my Bible, I am also using it to worship my Savior.
If you would like to get started on this journey with me this year, then dive in and take a leap. I have done so much research of different methods and techniques to use and all sorts of different supplies. I will be sharing my favorite supplies to use in the future with tutorials as well.
WHAT BIBLE TO CHOOSE
To get started you really don't even need a journaling Bible specifically. You could also just use a journal until you are able to get one. But if you are itching at the seams like I was to just go full force, then here is the Bible I chose. It is an ESV single column journaling Bible from Crossway in antique floral design for the most beautiful cover. You can also find plain covers if you prefer.
My husband bought this one on Amazon for a Christmas gift for me and it was super affordable compared to some. I had heard that they are smaller in size than you think so I was expecting this. Just be sure to check before you order so you aren't expecting something different. I find the size is perfect for the artwork, not too large and intimidating but just enough space. Below you will see my iPhone 6S Plus to give you a better idea of the size.
Like I said before, there are so many different supplies and techniques that you can use. Don't get overwhelmed when you do start researching it.
BEGINNER SUPPLIES
To get you started though there are a few supplies that are easy to use and don't cost a lot either.
I highly recommend the Crayola twistables colored pencils. They are extremely affordable and easy to use. The great thing about these is that you don't have a super sharp point that leaves an indention in the page or even cuts a hole. They also don't bleed through and show through the back of the page.
I have also found that they are great to use to highlight a verse instead of having to buy specific Bible highlighters. You can still see the text right through them while emphasizing a certain passage of scripture.
Alpha stickers (or alphabet stickers) are inexpensive and don't require any artistic ability whatsoever. If there is a verse that sticks out to you or a quote that you find encouraging, use different alpha stickers to spell it out in the margins or even in a journal. It just gives a fun way to document it without just using a boring ol' ink pen.
I am going to leave you with these basics for now so as to not overwhelm you. And do not worry if you don't feel artistic. Using the stickers is a perfect way to get started and not even have to have any artistic ability. I really am not good at drawing myself. I know you will be addicted to it as soon as you get started just like I have. Just focus on this new experience to draw closer to the Lord.
MORE INSPIRATION
Below are a couple pictures of my 1st and 2nd entries. I started this year with a reading plan that started in Genesis. I instantly knew I wanted to depict creation in my first entry. I love how it turned out with the top half for day and the bottom half for night made using watercolors.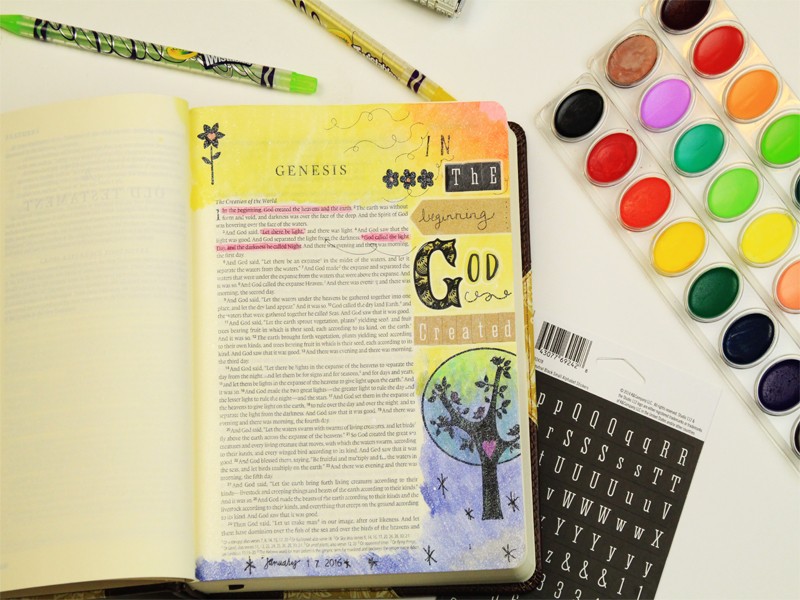 My 2nd entry is from Exodus when Moses parts the Red Sea. This one was made with a technique using gelatos. They are my new favorite craft supply, and I can't wait to share more about these in the near future.
I will definitely be going into  more detail of both of these entries and more so don't worry.
If you are truly serious about getting started and want even more details and tutorials all in one place, then be sure to check Adventures in Bible Journaling: An Extensive Beginner's Guide to Art and Bible Journaling. You will find loads of information including step-by-step tutorials for numerous supplies. Video tutorials and printables are also available to help you out.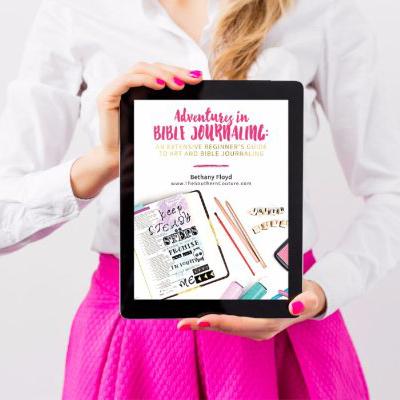 If I haven't convinced you yet to join me on this, then let me just come right out and say it, JUST DO IT!!! You will love it. Trust me. Also stay tuned because in the coming weeks, I will be sharing my favorite supplies and also tutorials to get you started as well. Be sure to follow me on social media and subscribe to my newsletter so you won't miss out on any new posts.
Some of the links in the post above are "affiliate links." This means if you click on the link and purchase the item, I will receive an affiliate commission. Regardless, I only recommend products or services I use personally and believe will add value to my readers. 
ENROLL NOW IN MY 5 DAY BIBLE JOURNALING ECOURSE FOR FREE!
Get exclusive tips and tricks with my 5 Day eCourse available exclusively to subscribers!