This shop has been compensated by Collective Bias, Inc. and its advertiser. All opinions are mine alone. #ICantEven #BigLots #CollectiveBias
I am doing something very brave today for all of you. I am actually showing pictures of my master bathroom and how it looked about 3 weeks ago. Do not judge me. You will want to stick around for the after photos to check out how Big Lots helped me to transform this space into something brand new and beautiful.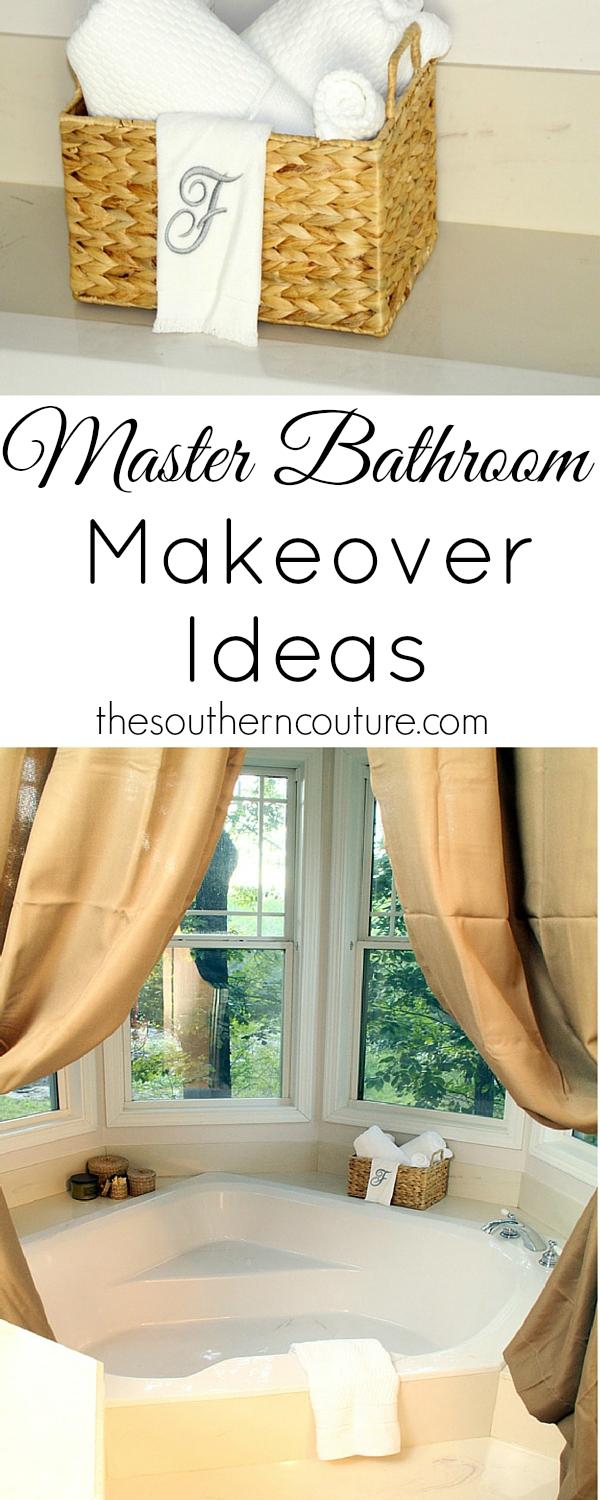 Around my garden tub was just a clutter of random picture frames, and candles that didn't even match or coordinate. I had so much silver and bronze instead of one uniform look. And what about those hideous shades that the previous homeowner had over the windows? Talk about blocking out all that gorgeous natural light.
It is so true that if a space doesn't look cozy and inviting, then you probably won't use it and will neglect cleaning it some too. Well that's exactly what my tub became. I used to enjoy bubble baths in it and just relaxing, but with so much random stuff, I didn't even want to bother with it anymore.
It's such a shame too, because I do think the garden tub and bathroom can be so relaxing, and our own little oasis. I knew I had to do something about it which is why I headed over to Big Lots right away for a room transformation.
I remember shopping at Big Lots with my parents when I was a child and seeing how much stylish, quality decor they had. We would buy high quality furniture that was value priced. Those features made it the   go-to place for our family's furniture needs. Now, as an adult, I always find a huge selection of furniture along with other home décor products including window panels, wall décor, picture frames, throw pillows, candles, and so much more.
My master bedroom is already decorated with blue and grey so I thought it would be good to continue the color scheme to my bathroom to keep them coordinated. I couldn't believe it when I went into the store and found this gorgeous chair.
I was so pleasantly surprised with the selection of furniture and that I found several pieces I can't wait to go back and pick up for other areas in my home.
The employee who was working in the furniture section was so patient and helpful with me considering the fact I can be quite indecisive at times. He even loaded the chair in my car for me, which made my life so much easier.
It had the exact same color palette that I was wanting – I couldn't believe it – I was so happy! Of course, styles and assortment vary by store, so be sure to keep that in mind when you head to your nearest Big Lots.
I have the perfect spot for this chair in my bathroom, as I have been wanting either a bench or chair for seating when getting ready, or just something cozy to relax in. The throw pillow I found there also matched perfectly and makes it extra comfy too.
Now that I had the chair which would be my inspiration and main focus for the bathroom, I was set and ready to get started with everything else. If you are feeling overwhelmed with where to start with a room, I recommend finding one central piece of furniture or fabric to plan everything else around.
Most people also think that in order to makeover a room, you need to paint and change all the colors and decorations. That is simply not true. The key is to work with what you do have and improve on it. There are certain things about my bathroom that I would love to change, such as my shower door, but that will come in time. For now, the bathroom looks brand new, and I couldn't be happier.
To help you get started transforming a room in your home, I will share some pointers that help me.
First, to recap, before you go shopping, decide on one piece of furniture, fabric, or a color scheme that you would like to plan around. Your shopping trip will become so much easier when you have a plan in mind.
Before shopping, make a list of things you will need to buy. When I don't make a list, it never fails that I return home and have forgotten something completely.
Don't be afraid to throw out the old and get some new in your home. I had been hanging on to old picture frames and other random pieces of décor because I had had them for a long time. I completely cleared everything out first and kept only what I knew would still work with the look I wanted, then got rid of the rest of it.
Check out the walls. You will want some kind of wall art or picture frames, especially if the room is already painted white. It's as simple as giving the room a little extra color. Above my new chair are two smaller walls where I was previously hanging my robe. I still wanted to be able to do this, but I moved the robe hook to a narrower wall opposite the chair.
The other wall was perfect for hanging a beautiful picture. When looking for wall art or frames, keep your color palette in mind.
Don't forget about organization. Before my bathroom refresh, my counters had different bins and cups to hold cotton balls, hair ties, q-tips, etc. You name it and it was probably there. My makeup was also a hot mess all over the place.
I first cleaned things up and then moved different containers around so that I only had one style in one place. These marble containers that I had before still matched perfectly with the chair.
For a hand towel, I was just using a folded towel sitting on the counter. Now I have a beautiful towel holder that is actually serving its purpose as it should. These really are simple ways to redo a space that don't take a lot of time.
Now for that garden tub. Don't be afraid to get inspiration from others. I love looking at other home interior design websites and magazines for great ideas. I tend to store ideas I want to try in the future somewhere in my brain with all the other mess. That's where I started with this part.
I wanted the bathtub to be its own little getaway within the bathroom since I do use it for relaxing. That's when I got the idea to use these window panels that I found at Big Lots and hang them with a curtain rod in front of the tub. This has got to be my favorite part of the whole transformation.
I can easily close the curtains for privacy when I'm soaking or leave them open to let in some fresh sunshine. This simple transformation didn't break the bank but made my bathroom into an oasis.
On the wall beside the garden tub is a full length mirror. Every girl must have her full length to check her outfit before walking out the door.
Don't forget about the essentials. Around the tub, I included different items that I use when soaking it up. A wicker basket with towels rolled up and ready to go is a must. I even included washcloths to use when washing my face.
A beautiful tray resting on the side of the tub contains an assortment of soaps including bath salts, a sugar scrub, and even bath bombs. Now I can pick whatever I like depending on how much pampering I need that day. I also have one of my favorite perfumes and lotions for when I get done bathing.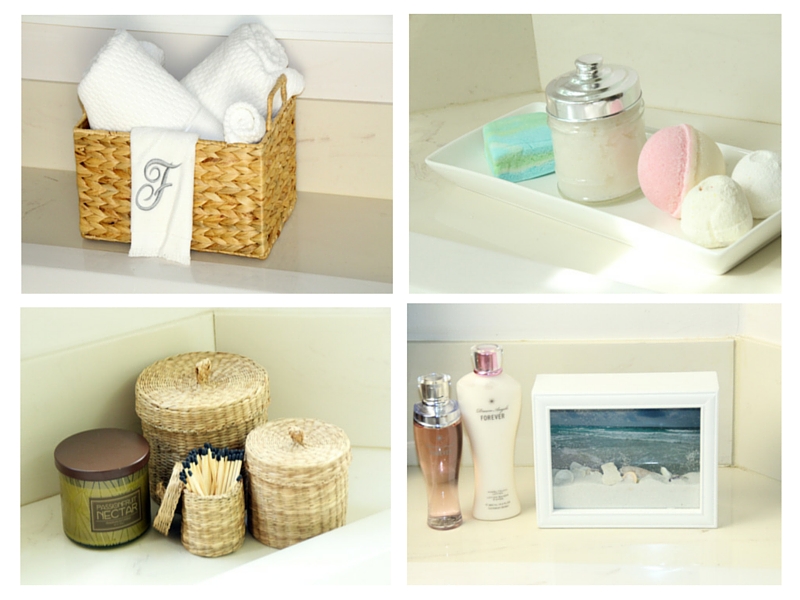 I kept some of the baskets I was using on my counter before, but grouped them together. I was still able to use them, but they look much better when they aren't mixed among something completely different. I paired them with a soy candle that immediately made me think of a spa when I smelled it. I couldn't even wait to get it home and burn it. I will definitely be going back for more.
To top it off, I placed an ocean view shadow box to get my relaxation started when I'm lying in the tub. Let's face it, the beach is really where my heart is every day.
Now all I need is some quiet time to myself and I am ready to go. With just a few simple changes and purchases, I was able to transform my bathroom without the hassle of painting it (which I really don't like to do) and save money while shopping at Big Lots for all I needed.
What space in your home is in need of a mini-makeover or transformation? Please tell me I wasn't the only one with an embarrassing room. I would love to know from you too in the comments below. Be sure to check out Big Lots Facebook, Instagram, and Pinterest for more inspiration.
Also if you have not already, please join me on Facebook, Pinterest, Instagram, and Twitter. I would love to hear from you with any comments, suggestions, or ideas you may have.
P.S. Please share this post with others if you enjoyed it and found it helpful. We love when you pass on goodness to others.