One thing I love about going to the beach or on vacation are the memories that we make. This ocean view shadow box is a perfect way to keep the memories alive and display in your home for others to enjoy as well. With fall on its way, it is easy to forget about those seashells that your kids collected and are still stuffed in the bottom of the beach bag. Take them out, print your favorite vacation picture from this summer, and enjoy the memories all year long.
I always seem to come home with seashells, postcards, room keys, etc. and but don't always use them but don't want to throw them away either. Sometimes they end up sitting in a drawer and are forgotten. Now not only can we enjoy the memories but also others who visit us in our home. The beach is one of my favorite places and I never want to forget those good times.
Your kids can also get involved with this and share their ideas on how to remember their summer vacation. It is easy for them as well to help you create and put it together. Not that school has started, it's never a bad thing to look back and smile on summer memories.
The reason I love this shadow box more than just any ordinary one is that the picture with the beautiful ocean view, sand, and seashells gives a glimpse or picture of the beauty we enjoyed while there.
What you will need:
Shadow box: I found mine at Michaels for 40% off making this project very inexpensive. I plan to do this for each vacation we take and eventually build a collage wall of trips and vacations so I didn't want it to be too big to start with.
Picture from a recent trip
Seashells or you could also use any other small objects from your trip
Straight pins or scrapbooking adhesive squares: My shadow box came with straight pins that I used to attach the picture.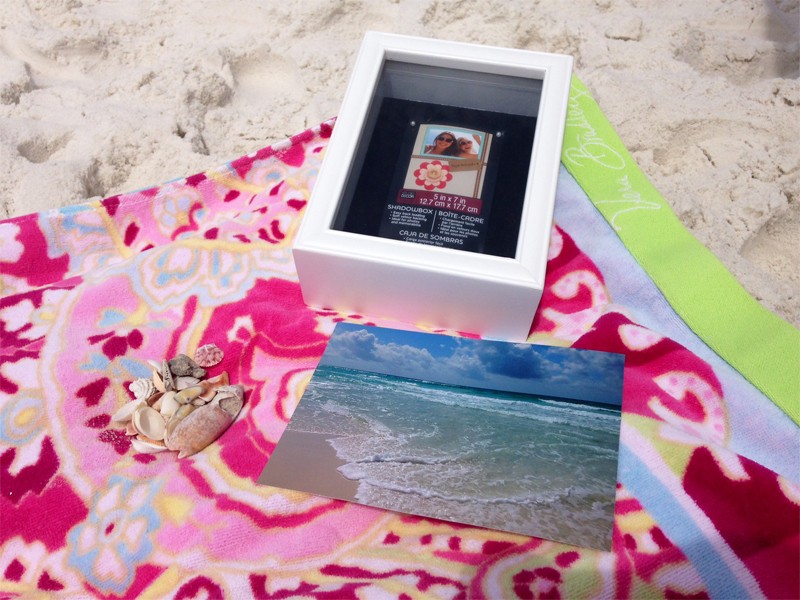 Let's get started!
Remove the back of the shadow box and place your picture on the back wall of the box. You may want to attach with scrap booking adhesive squares first and then place straight pins in the corners for extra support and also decor if they have the pearl or colored tip on them.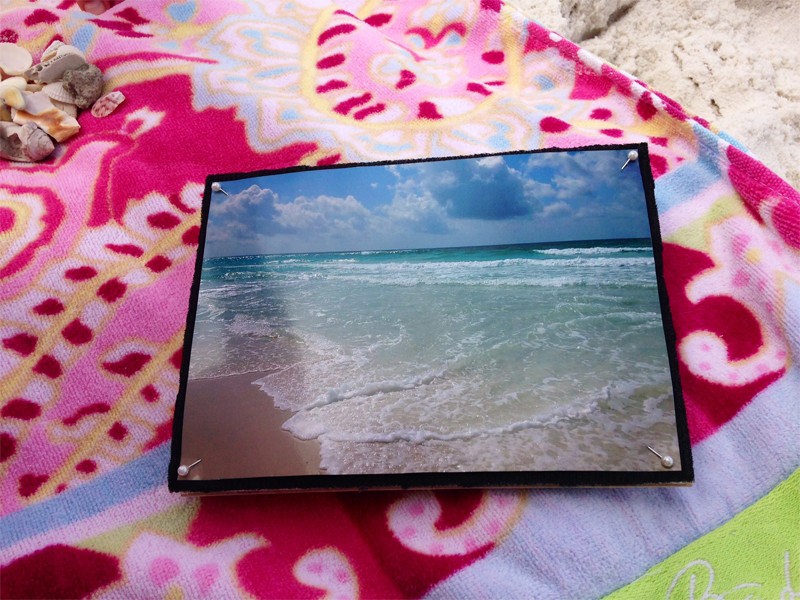 Placing the seashells and sand can be sort of messy but don't worry. It doesn't have to look perfect with everything places perfectly. The beach doesn't look that way either.
It would also be easier if the top of the shadow box would open as well and you could drop the sand and seashells in but mine didn't. Maybe you can find one that does.
I laid the shadow box flat and placed my shells randomly on the glass. Depending on your picture will depend how far up the glass you want to cover it with the shells and sand.
Next I started laying my sand on the bottom portion of the box below the seashells and on part of them. I used a picture of the shoreline with the water and sky so I wanted the seashells and sand to cover the bottom of the picture and make the picture sort of come alive.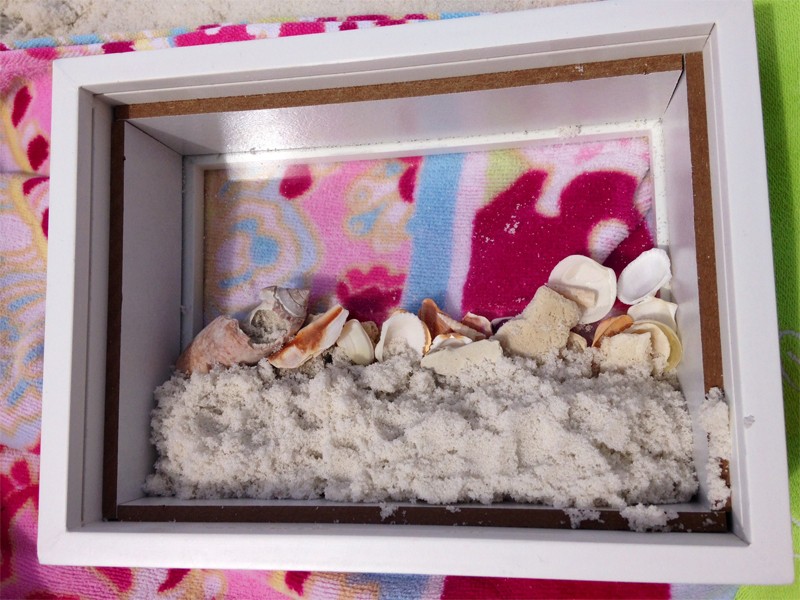 Replace the back of the shadow box with the picture and secure it in place. Slowly and gently turn it over and see your finished project. Because of the sand and seashells moving easily you may need to turn it over and do some more placement but like I said before, don't try to make it perfect.
Also write the year of the vacation or the year and month on the back of the shadow box so in the future you will not become confused on which vacation it was.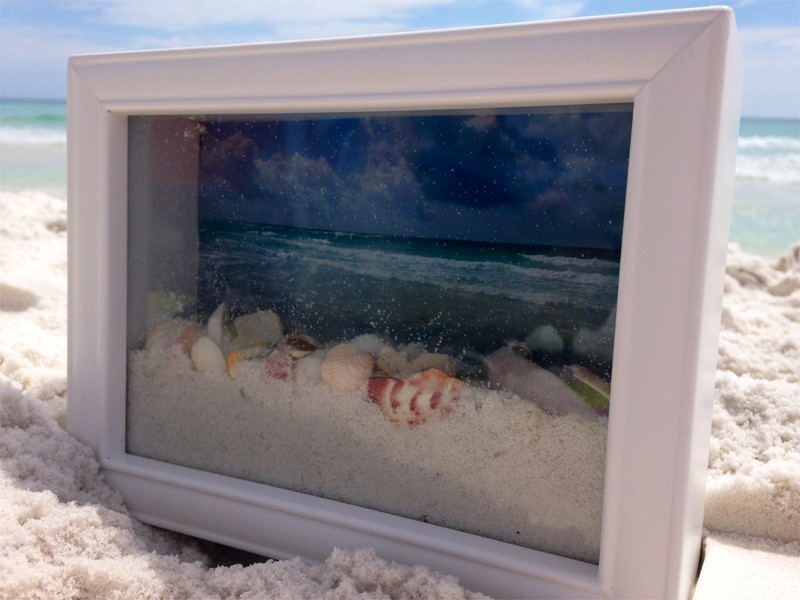 I love being able to look at this shadow box and smile on fond memories of a wonderful trip. I know that you and your family will be able to do the same as well.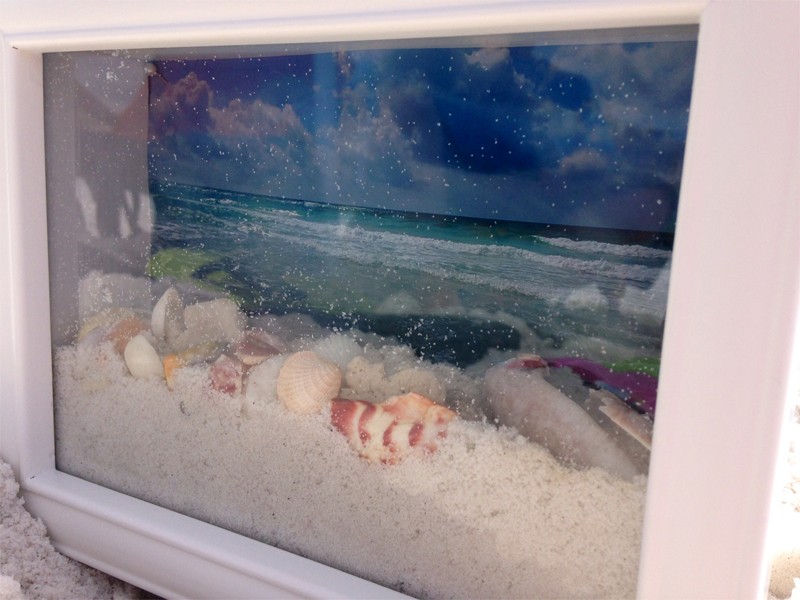 Enjoy looking back on good times and looking forward to making more great memories in the future. But most importantly enjoy the little things in life each and every day!!
Please feel free to share your pictures or memories of your recent summer vacation in the comments below. We love to hear of other great places to travel and things to enjoy while traveling.
If you enjoyed this simple project then be sure to also check out the School Year Memory Jar, Photo Coasters, and Bathroom Mirror Revamp.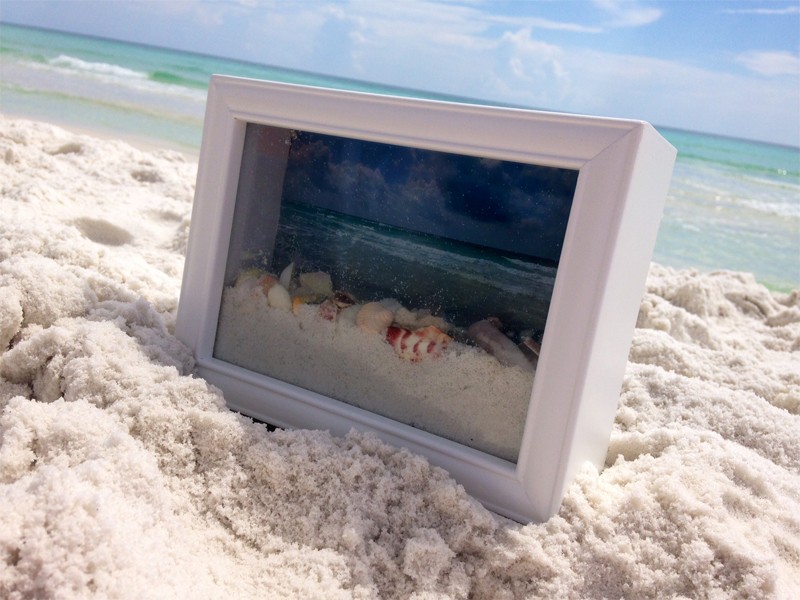 Also if you have not already, please join me on Facebook, Pinterest, Instagram, and Twitter. I would love to hear from you with any comments, suggestions, or ideas you may have.
Some of the links in the post above are "affiliate links." This means if you click on the link and purchase the item, I will receive an affiliate commission. Regardless, I only recommend products or services I use personally and believe will add value to my readers. 
ENROLL NOW IN MY 5 DAY BIBLE JOURNALING ECOURSE FOR FREE!
Get exclusive tips and tricks with my 5 Day eCourse available exclusively to subscribers!