Can I get a cheer for the Target dollar spot? I say it all the time, but it is absolutely one of my most favorite spots to shop. It seems like I can't leave Target without finding something adorable for only $1. Who just doesn't love Target anyways? Not anyone that I know.
Sometimes I will find things in the dollar spot at Target that I really absolutely love, but I'm not really sure how I will use them at the time. I have learned to go ahead and buy them at that very moment instead of deciding later and coming back. Majority of the time, they are already sold out when I go back. And the worst case is I don't end up using it, and it only cost me $1 (which usually never happens).
The Most Adorable Valentines Letter Holder
I shared on Instagram earlier this week a sneak peek of this cute felt Valentine envelope that I found in the dollar spot. They had them last year, and I made the mistake of not getting it then. This year I had learned my lesson and couldn't wait to take it to the next level.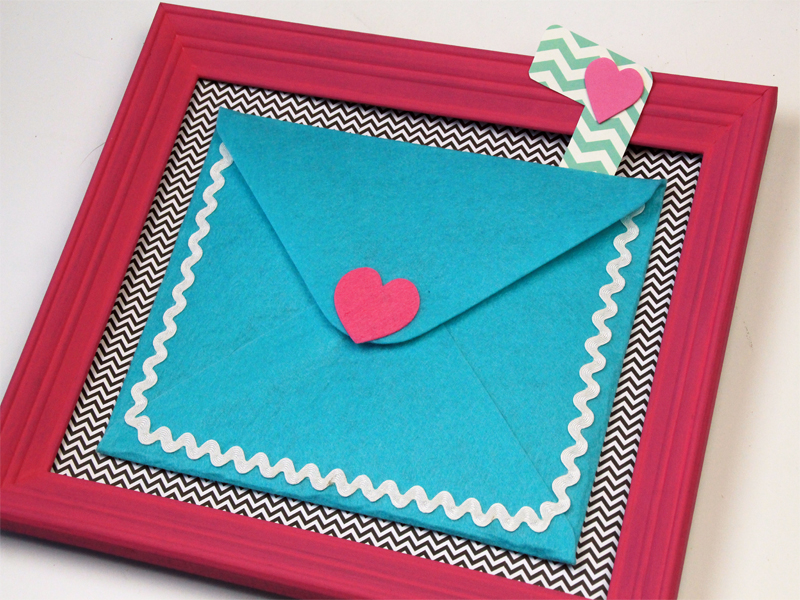 A framed Valentines letter holder is the sweetest way to leave little love notes and surprises for your kids and special someone throughout the whole month of February. I have done 14 Days of Valentines for Mark in the past, and this would be the perfect way to give them to him each day.
Let's get started with the supplies you will need:
Old frame with the glass removed- I had this one on hand that I had bought at a yard sale before.
Target felt envelope
You are going to want to cover the inside backing of the frame with scrapbook paper. First measure and cut your paper to the correct measurement before painting the frame and then just sit the paper aside for later.
Paint your frame with either spray paint or acrylic paint using a foam brush. Spray paint would have worked easier, but I really wanted to use this bright pink color so I stuck with what I already had and made it work. I did paint about 3 coats to cover the wood completely.
While I was waiting for the paint to dry between layers, I started working on the flag for the "mailbox" letter carrier envelope. I thought adding a little flag to let someone special know when there is a delivery would add that extra touch.
You can see in the picture above that I started out with a small piece of aqua scrapbook paper that I was going to use for the flag. I changed my mind later and used a Project Life card I had with an aqua chevron pattern that worked perfectly.
I cut the card down to look like a flag and then placed it on the back on the envelope to know where to cut a hole to attach it. I made a hole in the bottom of the flag with the hole punch.
I then cut a small hole in the felt envelope and attached the flag to the envelope using the metal brad. Mine just happened to be pink which no one will ever see, but at least I know it matches.
You can add a heart to the flag just for an extra touch if you have one. This foam sticker worked perfectly. (The picture above shows a smaller heart that I planned to use, but of course Mac my chocolate lab thought it looked pretty appetizing and that was the end of that.)
Once the frame has dried, attach the scrapbook paper to the inside backing of the frame using scrapbook adhesive or a glue gun.
I then attached the felt envelope to the backing of the frame using a glue gun and waited for it to dry.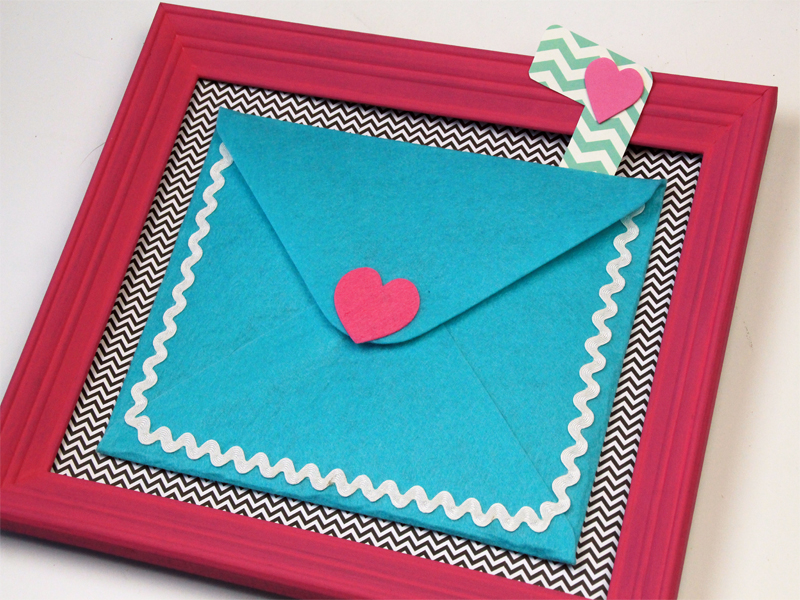 Once everything dried, I hung it up and got busy writing some love letters to fill it up with.
It is probably one of my most favorite Valentines decorations I have made. The envelope with the bright colors and the black and white chevron pattern in the background is so adorable.
What I also love is that this project really only cost me a little over a $1. I paid a $1 for the envelope and just coins for the frame at a yard sale last year. All the other supplies, I already had on hand. Get creative and challenge yourself to make something great with what you already have to save you money at the same time.
Happy Valentine's Day!!! Let me know in the comments below what you latest Target dollar spot find is. I would love to know and go look for myself too. Let me know too if you find these envelopes. Another great idea would be to personalize them for each of your kids.
Also if you have not already, please join me on Facebook, Pinterest, Instagram, and Twitter. I would love to hear from you with any comments, suggestions, or ideas you may have.
P.S. Please share this post with others if you enjoyed it and found it helpful. We love when you pass on goodness to others.
Some of the links in the post above are "affiliate links." This means if you click on the link and purchase the item, I will receive an affiliate commission. Regardless, I only recommend products or services I use personally and believe will add value to my readers.